Tasting Notes Week of August 22, 2012 – Restaurant Wine List Favorites
By
Marisa D'Vari
| August 25th, 2012 | Category:
News
,
Wine reviews
|
No Comments »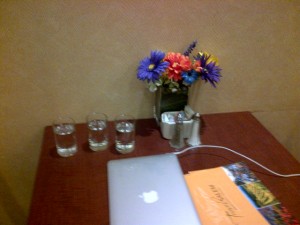 So I was at the Spanish Restaurant Pipa the other night and enjoyed Conde Valdemar Reserva 2005 – a real find for about $40. I had visited the winery a few years back, met the winemaker, and relished the chance to retaste the wine. The color is deep and purple, with stained tears and a lighter rim. On the nose, lots of spice, tea-like tannins, and some characteristics of American oak. On the palate, full bodied with strong flavors of ripe plum and a deep concentrated finish of more plum and brooding red fruits.
Then at the new restaurant the North End Grill found very talented sommeliers and a fresh from the farm menu. We ordered the last bottle of Riesling Erste Lagre, Uhien Roth Lay from Heymann-Lowenstein 2006 – delicious and quite balanced. The Chinon Les Graves from Fabrice Tempier 2010 needed practically an hour to open, yet was quite good around the 90 minute mark.