Update on Finger Lakes Wine
By
Marisa D'Vari
| August 5th, 2012 | Category:
News
|
1 Comment »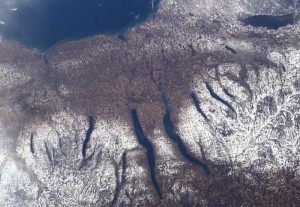 A few years back, the Wine Media Guild based in New York visited the Finger Lakes. There were about twenty of us that made the journey in a van sponsored by the Finger Lakes producers … a long but rewarding drive as the scenery was incredible and the wines quite delicious.
The Finger Lakes seem very far from the UK … yet in the July 2012 issue of Harpers, Carol Emmas reviewed some of the leading producers and noted that these wines are finding themselves in Michelin starred and fine dining restaurants such as Gidleigh Park in Devon and Hakkasan in London.
Exciting news!
In her brief review, she singled out Fox Run Vineyards Tierce Dry Riesling 2009 as a bone dry gutsy intense wine full of sherbet lemon flavors … Red Newt Cellars Dry Riesling 2008, Hermann J Wiemer Dry Riesling Reserve Seneca Lake 2010, Dr. Frank Salmon Run Petit Noir, Red Tail Ridge Dornfelder, and Sheldrake Point BLK3 Pinot Noir 2009