Pays d'Oc at Vinetta Project – Dexheimer Rocks
By
Marisa D'Vari
| September 29th, 2012 | Category:
News
|
No Comments »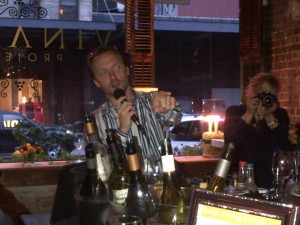 Fun event featuring Pays d'Oc IGP at Vinatta Project in the Meatpacking district. Everyone who was "anyone" in the wine business was there to taste 26 quality and value-driven varietal wines from the Languedoc.
It was a special opportunity to discover the diversity of this southern French denomination, featuring some extremely cool people including Jacques Gravegeal, President of Pays d'Oc IGP and Master Sommelier Fred Dexheimer (pictured above) who kept things rocking.
Send to a Friend Twitter Facebook del.icio.us Digg StumbleUpon