Meeting up with Joel Peterson
By
Marisa D'Vari
| September 10th, 2012 | Category:
News
,
USA
|
No Comments »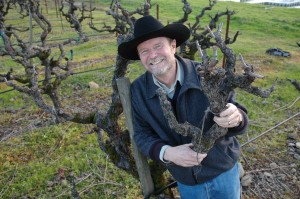 So a very interesting conversation today with Joel Peterson of Ravenswood.
In case you missed Ravenswood History 101, Joel started his winery in 1976 ... and achieved huge recognition in 1979 after his wines came in first and second at a prestigious San Francisco tasting.
I have had the pleasure of lunch with him before ... and have always loved Ravenswood for the house's full bodied style and rich ripe fruit. I bring his wines to parties as the perfect example of a California wine ... "sunshine in a glass" as Joel himself might describe it.
Ravenswood has developed a signature taste -- and a brand -- that transcends space, time, and trends.
What made this particular lunch interview different is that today he revealed so many secrets ... secrets about his wine, his family history, and also his wine making philosophy.
That said, today's tasting and conversation brought an entirely new level of comprehension to the Ravenswood wine experience.
One of the first interesting points of discussion revolved around how the wine business has changed when Joel started his winery in 1976 in contrast to today, as his son has recently launched his own winery. One of the key differences today is that the Internet allows winemakers to get past the 3-tier system by selling online.
For example, within hours of announcing a new release, Joel's son can make as much as a half million dollars (sometimes more) in just a few days. Quite different in Joel's early days, when the 3-tier system meant giving roughly 50% to distributors, etc.
Yet this lunch was also a fabulous  introduction to Joel himself as well as his amazing family history.
Joel can trace his family history to 1851 in California, where his ancestor ran a steamboat in Nantucket -- then sailed ships around the world -- before finally ending up in California with a dairy farm.
Joel's parents were both scientists ... and when Joel was a small child, his mother developed a strong interest in both high end cuisine (she consulted and/or edited the books of Alice Waters) and wine.
As a child of ten, Joel would taste wine with his father, and when he named a flavor (I can imagine chocolate was a favorite) his father would have him taste different chocolates, or apples, or other fruits to more specifically define the exact flavor of apple or black fruit he was tasting).
Another interesting thing I discovered at this lunch was that Joel worked as a medical researcher as he developed Ravenswood, which suggests that he has a natural analytical and structured approach to wine making.
Right now I sense Joel's  passion is about his new single vineyards, which in his words, "allows the grapes to tell you who they are."
Today the lunch was at the Al Fiori restaurant in Manhattan -- top cuisine and top service for all the wines.
We started with the single vineyard Dickerson, located on Zinfandel Lane on the west side of the Napa Valley ... an elegant wine with sharp acidity and a real sense of terroir. Very bright and light, the wine has raspberry, cedar, and mint.
Big River Zinfandel comes from some of the oldest vines in the Alexander Valley. Lots of ripe fresh plums and baking spice.
Old Hill Zinfandel was Sonoma's first famous Zin made om 1962 by William Hill. Very powerful and ripe.
Belloni Zinfandel is one of my favorites of the single vineyard ... very elegant with boysenberry flavors. It is actually a field blend with 70% Zinfandel and 30% of other varietals. Very perfumed with velvety tannins.
Pinkberry Red Wine and Teldeschi Zinfandel rounded out the tasting, both older vines that have a lot of complexity.
Perhaps the key takeaway points from today's tasting are these:
1. Ravenswood is one of the key icon brands when it comes to California Zinfandel, both domestically and from what I heard, in Japan and other key regions in the export market.
2. Persistence pays off -- Joel started with $4000 and today has built an icon brand.
3. Wineries need a correct cash flow model ... Ravenswood delicious and popular Vintners blend was one way to create a mainstream, popular brand while focusing on his passion for  single vineyards.
Great to reconnection to Joel and excited to keep trying these wines and see how they evolve!
Send to a Friend Twitter Facebook del.icio.us Digg StumbleUpon