Mr. Prum of S.A. Prum Cellars gives Private Tasting at Cooking by the Book
By
Marisa D'Vari
| September 29th, 2012 | Category:
News
|
No Comments »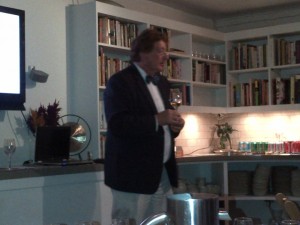 Last night attended a fabulous and unexpected experience at the exciting new space for cooking and dining experiences, Cooking by the Book.
Mr. Prum of S.A. Prum of the Mosel Valley brought some special limited production Grand Cru wines, as well as Kabinett, Spatlese, Auslese and Eiswein for us to taste and understand.
We went on a journey through styles of German Rieslings, from dry to sweet. All are specially selected gems from the S.A. Prum cellar, a family-owned wine estate that has been making sought-after wines since 1911.
Setting down at our beautifully decorated tasting were 7 rare and fine wines.
Wine List:
Prum Blue Riesling 2010
Graacher Domprobst Grand Cru Riesling 2007
Urziger Wurzgarten Kabinett Riesling 2009
Graacher Himmelreich Spatlese Riesling 2010
Wehlener Sonnenuhr Auslese Riesling 2006
Wehlener Sonnenuhr Old Vines Dry Riesling 2007
Graacher Himmelreich Eiswein Riesling 2004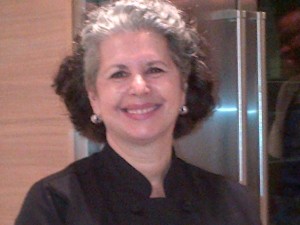 Once the talk about the wine was over, Cooking by the Book owner and chef Suzen O'Rourke gave a fabulous cooking demonstration worthy of a TV Show ... and invited audience participation. Suze was really a hoot ... calling herself a "Bread Ho" (you must listen to rap music to understand what that means), and referring to her "killer rye bread" which REALLY was killer. It was made from a mother yeast made in the 80's!
Food Menu:
Savory Onion Tart "Zwiebelkuchen"
Traditional German Meatballs
Apple Strudel
The food was incredibly delicious and Suze was SO MUCH FUN. I used to have a TV show about chefs, and Suze really gets the prize for entertaining an audience.
Suzen O'Rourke founded Cooking by the Book in 1989 on the principle that everyone — regardless of their skills or experience — can enjoy the rewards of fine cooking. From that simple concept, she gathered the ingredients for our renowned corporate team building and special events programs, offering customized hands-on events for corporate teams and their clients.
The space is very comfortable and a perfect location for off-site meetings. You can read more about them here.
Send to a Friend Twitter Facebook del.icio.us Digg StumbleUpon