Day 1: Hautes Etudes du Gout (HEG) Paris
By
Marisa D'Vari
| October 29th, 2012 | Category:
HEG
,
News
|
No Comments »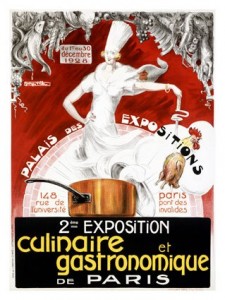 By introduction, this 2012 year's  Hautes Etudes du Gout (HEG) is a gastronomy course carried out at Reims University, that provides a thorough knowledge on  taste and arts of the table.  Combining historic, scientific and economic approaches to  taste and gastronomy, the Hautes Etudes du Goût make students familiar with the various aspects of the world of gastronomy.
Day 1 of the HEG program started out with students gathering together in the lobby of our Novotel to walk the five minutes to the Cordon Bleu, famous for the American Julia Child having attended it and being one of the foremost cooking schools in the world. Mr Remi Krug who is the Chairman of Hautes Etudes du Gout (HEG) and of course the key person of Krug champagne delivers a heartfelt introductory address.
The next lecture is the Neurophysiology of taste by Professor Patrick MacLeod, Professor at Ecole Pratique des Hautes Etudes, Former Head of sensorial analysis department, and Président de l'Institut Français du Goût.
For me the salient aspects of this talk was the way that scientists today can use brain imaging to show how information is represented in the conscious areas of the brain and how it leads to a motor response with pleasure as a cause and consequence.
It was interesting to note that we should not confuse emotion and pleasure - emotion is a temporary and paroxysmal function that can be triggered by an intense pleasure or displeasure, but then substitutes a logic of emergency to the core of pleasure.
After lunch, the lecture was "The Child's Psychology of Taste: How our Food Preferences are Determined" given by Natalie Rigal, lecturer in psychology at the University of Paris X-Nanterre.
This talk examined many issues with children and food. The takeaway point for me was
1) Children can self-regulate their own nutrition - they do not need parents to overfeed them.
2) Children naturally self-regulate their food intake, yet as they get older external cues motivate them to eat more than they naturally desire.
3) Parents can create many problems for children by forcing them to eat (yet we knew this, oui?)At five o'clock, Pascal Barbot, chef and owner of L'Astrance restaurant in Paris with 3 Michelin stars, shared his story.His restaurant in the 16th sit 25 and is open only four days a week and guests are given a menu, rather than choosing from one - he has special purveyors and buys from them directly. He vocalized that he can make exchanges if possible.
Pascal has boyish good looks and a winning personality - I listened to him in French directly and also the headsets for English translation at times. He speaks quickly and with energy so as someone just a few years into studying French it was hard at times to take it all in. Yet as this was "restaurant speak" I understood a great deal of it.  He has lived all over the world, including exotic tropical and Asian locales, and this is where he picks up many of the flavors he uses in his dishes.
When he was 14 he went to cooking school (his family middle class, not involved in restaurants) and did a number of stages at an early age at top restaurants. In the French Navy, he was the head chef of the Admiral of the Fleet where he improved his classic French dishes. Then he went to Paris and spent five years at L'Arpege ...
... and the rest is history. He and his partner went to a bank and received enough money to start his current endeavor.
I did not have the chance to talk to Pascal extensively, yet he has a winning personality, creativity with cuisine, and we were very lucky to hear his personal life story.
That night, we had a dinner at the Cordon Bleu ... "finger foods" prepared by Sibel Pinto, a 2008 HEG Graduate, and specialty beers offered by Herve Marziou, beer specialist and 2004 HEG graduate. Mr. Marziou was an expert presenter, showing us how to smell and taste beer as one does wine. Ms. Pinto prepared some great Turkish food that had been also detailed in the thesis she wrote for HEG.
Send to a Friend Twitter Facebook del.icio.us Digg StumbleUpon