Visiting Gilles Crochet of Lucien Crochet
By
Marisa D'Vari
| October 8th, 2012 | Category:
Loire
,
News
|
No Comments »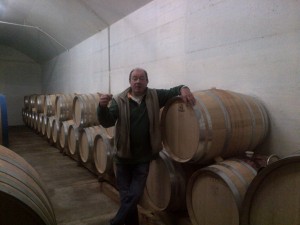 "The only time my husband can see you is 11am on Sunday," emailed Laurence Crochet, wife of Gilles Crochet pictured above.
I am arriving in Sancerre in the middle of harvest and it seems that Gilles Crochet and many other producers are working 7 days a week, 24 hours a day, to bring in the grapes.
The winery - Lucien Crochet - is located in Bue, perhaps a ten or fifteen minute drive from Sancerre. It is a quiet and pretty town, very very small.
Gilles says he prefers to speak French yet his English is excellent. He shows us around the winery, which seems to have the state-of-the-art equipment and is very clean.  For a small grower with such an excellent reputation, some of the equipment must have been very expensive yet it seems certain that he is a good manager and everything gets put to good use.
I ask about yeast -- it is typically a question that is always on the Master of Wine exam. Gilles says he has uses natural and cultured yeast and prefers the cultured yeast from Champagne.
We visit the room where the wine is aged in oak - you can see Gilles posed in this room.
Finally, we visit the tasting room with Gilles who is very excited to show us a map and point out the different types of terroir each of the wines comes from.
I am enchanted by Le Chene Marchand 2010. It is not their most expensive wine, yet I really respond to its stark minerality. It is like biting into a rock (in a good way) I also like the Pinot Noir, La Croix du Roy.
In the course of the visit I also meet the founder, Lucien Crochet, and learn that both of Gilles grandparents - and Laurence's also - were vignorons.
Laurence,  a very vivacious and friendly woman - completes the tasting as there is an emergency in the field and she has just returned from shopping with her 15 year old daughter (there is an older daughter as well).
A very fabulous visit to what seems to be a very special, family owned winery with excellent wines!
Send to a Friend Twitter Facebook del.icio.us Digg StumbleUpon