Riesling Vs. Gewurztraminer
By
Marisa D'Vari
| April 4th, 2013 | Category:
News
|
No Comments »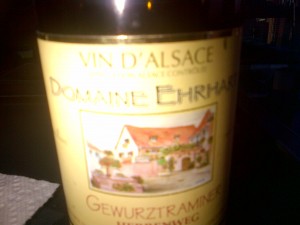 Okay, the first time I compared these two different varietals was using the same producer and  the same year, back when I was a  WSET student in 2006, taking my first advanced course. It seems incredible to me now that there would be difficulty telling these two grapes apart, yet I was six weeks into the wine world and the aroma of fresh, ripe peach and lychee in both wines could be cause for confusion.
Recently I sampled both wines above ... first the Gewurztraminer from Alsace which was incredibly delicious.  It is from Domaine Ehrhart Vn D'Alsace Gewurztraminer 2010 from the Herrenweg vineyard. According to the domaine, the residual sugar for The Gewürztraminer Herrenweg 2010 is 28 g/liter and with 3g/liter of total acidity (H2SO4) and 4,53g/l in total tartaric acidity. The flavors are honey and spice, and it would be a perfect match for carmelized scallops.  http://www.domainesaintremy.com/
Corinne Ehrhart emailed me answers to my technical questions below:
Dear Marisa,
This is not a mix of late harvest or botritized grapes  - our Gewürztraminer Herrenweg is our driest Gewürztraminer we have but also with a nice minerality
The most important in harvest time for us is the very good ripeness of the grapes and a good acidity - that is very important - every morning in harvest time Philippe's father go to the vineyard and take different grapes from different pacelles and then we analyze and we decide which one we will harvest.
For vinification we press very slowly and then we push down the temperature of the juice - gewürztraminer goes fast in fermentation and we want to preserve the fruitiness  - we only use naturel yeasts and stainless steel tanks without sulphites - we let the wine on there lees until in bottling (mostly july or august) and we do lees stirring once or twice a month
we add sulphites only one time before in bottling
Now for the Riesling ...
As soon as I opened Berncasteler Doctor Riesling Kabinett 2009 I experienced the razor sharp acidity that makes it impossible for it to be anything other than a riesling. Yes, this wine also had ripe peach, lychee, and even papaya along with other tropical fruits. If the Gewurztraminer is 28 g/l RS, this must be at least 40 (I'm checking with the distributor).  Here's a fun post about it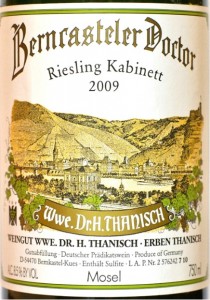 Send to a Friend Twitter Facebook del.icio.us Digg StumbleUpon