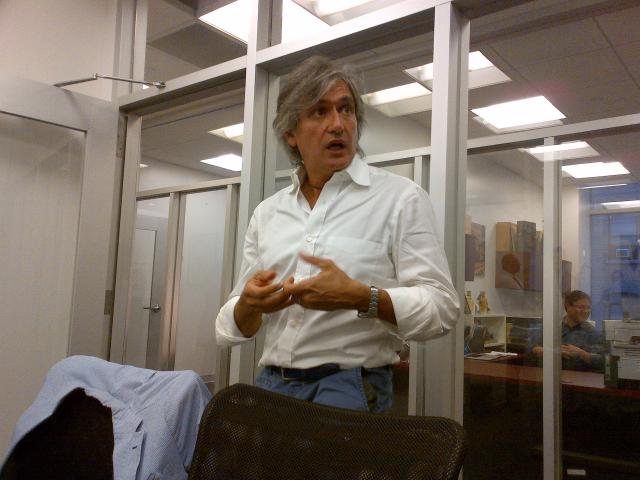 Very interesting to meet Beppe Caviola of Damilano Barolo, and taste four of his wines. In 2002 he received the Winemaker of the Year award from Gambero Rosso as well as many others, and the four wines showed his intelligence and insight.
The 2008 Lecinquevigne is a blend of five vineyards with vines aged up to 50 years. Though it is a 2008, the wine is ready to drink now with softer tannins and tertiary notes of rose and tobacco. The maturation was with a mix of second use barriques (20%) and 80% large barrels aged for 24 months.
The 2008 Barolo Liste was more powerful and at this point a bit rustic, with intense licorice, tobacco, and blackberries. It was aged 24 months in tonneaux (500 liters), a mix of new and older French oak. Great concentration of ripe fruit.
The 2008 Barolo Cannubi was a favorite, different from the Liste as the soil was calcareus clay with sand. It was aged in large oak barrels which gave it softer tannins.
The 2006 Barolo  Brunate was a bit more aggressive than the others, and seemed to need a bit more time to soften. Quite delicious with red fruit, truffles, and a pure beam of cherry.
It was interesting to taste all the wines side by side, and try to pick apart the flavors that  separated one single vineyard from another, and also the blend of five vineyards. Another factor in all the wines was the use of oak, and the type of oak, as the blend of vineyards was the traditional Slavonian oak and for the Liste at least, only French oak was used which (to me) gave the wine a more tannic quality, yet might also lead to its ability to age longer.
Aside from his brilliant winemaking, Beppe is a very charismatic individual who struck me as having a very artistic approach to his wines, designing each in relation to the terroir as well as the vintage.