Tasting Notes Week of September 3, 2013
By
Marisa D'Vari
| September 4th, 2013 | Category:
Wine reviews
|
No Comments »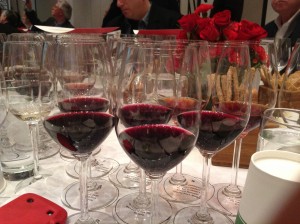 So this week some interesting reds from Michael David Winery…
Earthquake Cabernet Sauvignon, 2011
What was interesting about this wine was the "Lodi" factor. Though it was very fruit-led on the palate, very rich and satisfying, I was trying to taste it in the sense of it being Lodi and not Napa.  Perhaps it was the richness of fruit, intensity of flavor, and also some notes of delicious chocolate.
The Seven Deadly Zins 2011
Okay, so we know there are Zinfandel groupies out there, to the point they have their own festivals. This was a more restrained style of Zin I particularly like. Lots of bright fruit flavors and delicious warm spice. I can see it paired with a steak…