Imagine that you are a policeman and have the opportunity to take an early retirement with limited resources but a big imagination.
What would you do?
Would it occur to you to find some barren spot with bad roads, no access to water, no vineyards, and create a mansion with beautiful healthy vines and a row of gorgeous guest houses that look like they could be rooms at the Ritz-Carlton or Four Seasons?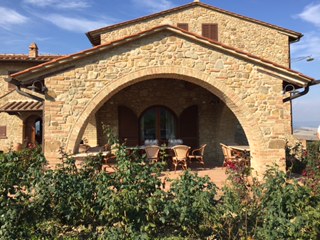 Meeting the lovely father and daughter team of Genuino and Claudia Del Duca was a fabulous lesson in the art of imagining BIG.
The family story behind Podere Marcampo is one of fortitude, patience, and amazing imagination and hope when everything should have logically dissuaded them from their goal of a vineyard and bed/breakfast along with one of the most breathtaking mansions you can imagine.
It all started more than a decade ago when Genuino was told about some land about 4 km from the ancient Etruscan city of Volterra in the heart of the Natural Park "Parco Naturale delle Balze e dei Calanchi."
All that had remained of what was an ancient mansion was the impressive looking façade and an extensive view of the countryside.
With his own hands, Genuino was able to find stones on the property and build an elaborate family mansion along with guestrooms.
If that wasn't enough, he was also able to plant a vineyard with help from Claudia, who now helps in the vineyard and winery (Genuino also makes the wine!) though her major job is with sales, exports, and hospitality. Claudia is also extremely active in the popular high end family restaurant Del Duca in the city of Volterra, where her mother is chef and Genuino also occasionally cooks.
The soil is poor, which means that it is excellent for grape growing. The challenge is that the grapes still need water, and incredibly, Genuino must actually drive a truck to buy it in tanks and bring it back to the winery.
Happily, this massive effort has paid off in the form of excellent wine.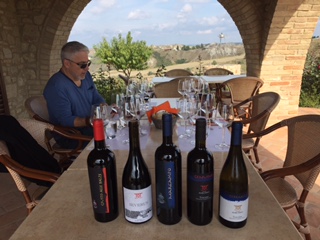 We kicked it all off with Terrablue 2015, IGT Toscana made from Vermentino 90% and Malvasia 10% aged in stainless steel vats for 8 months – very refreshing.
Then we moved on to the red wines of high quality.
This began with two vintages of the Genuino (2012 and 2013), named after the founder itself, made from 80% Sangiovese and 20% Merlot.
The Marcampo 2013 IGT Toscana is made from a blend of 50% Merlot and 50% Sangiovese – very smooth and well balanced.
Then the Severus 2014, IGT Toscana, 100% from Sangiovese and aged a year in second use French oak barrique plus another 6 months in stainless steel vats.
Finally, my personal favorite Giusto Alle Balze 2013, made from 100% Merlot and aged for a year in partly new and partly second passage French oak.
These wines were so world class it seemed impossible to think they came from a small cellar!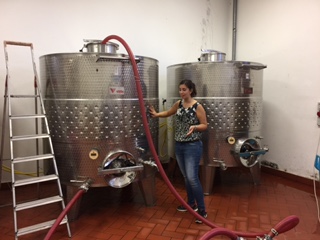 After the tour of the vineyard and the tasting (it would have been nice to take a dip in the pool) we continued on to the family restaurant in Volterra, just about 4 km away.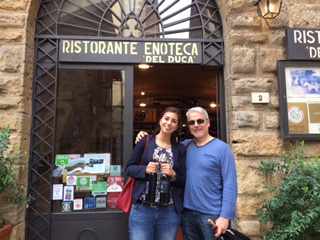 Claudia does not have the airs of a celebrity, but her tiny yellow car was on display in the main piazza as she had leant it to a pair of Honeymooners staying at the estate for their wedding.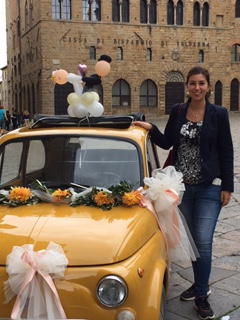 As it was both small and very banana yellow, you can imagine the crowds swarming around it.
The Del Duca restaurant is located in the heart of town and serves excellent cuisine, with a secret hidden wine cellar Claudia showed us with a mysterious past.
Claudia stocks wine from their own vineyard, as well as other producers we met on the trip represented by PR Wines.
After the lunch, Claudia showed us the marvelous sites of the old town of Volterra, different from other Italian towns because it is Etruscan.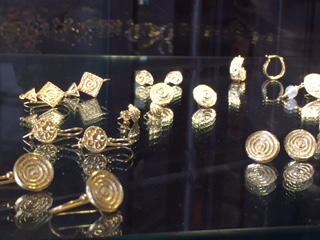 I wished we had time to visits the shops and museums, but the view of the ancient amphitheater and the ruins of the baths was terrific.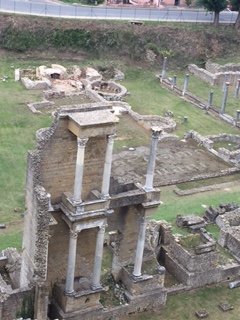 I should explain that Claudia began her visit by explaining that she would like us to tour the property and vineyard before tasting the wine, because so much of the family is actually living in the wine.
I agree with this – very few places can you go in the world where the winemaker not only personally planted the vines and built the house, but is tasting the wine with you at lunch as well!