So many exciting things are going on at Terre de Barolo since my last 2014 visit I can hardly contain myself!
First, in addition to longstanding enologist/technical director Danielle Ponzo there is a new General Director and Marketing Manager at Terre de Barolo to be introduced in my next post … but for now, I will say that as a group, these three gentlemen are young, dynamic, and out to really improve this cooperative for its customers as well as its grower members.
First, let's ask: what is a cooperative?
In Italy — and in many other regions of the world, a cooperative represents good value for the money, as well as a visible way of supporting friends and neighbors whose livelihood depends on making wine. Perhaps the best way of defining a cooperative is to say that is a community-based operation in which growers bring their grapes to be vinified, aged, and bottled – as well as marketed, and are paid in accordance with the quality of their grapes.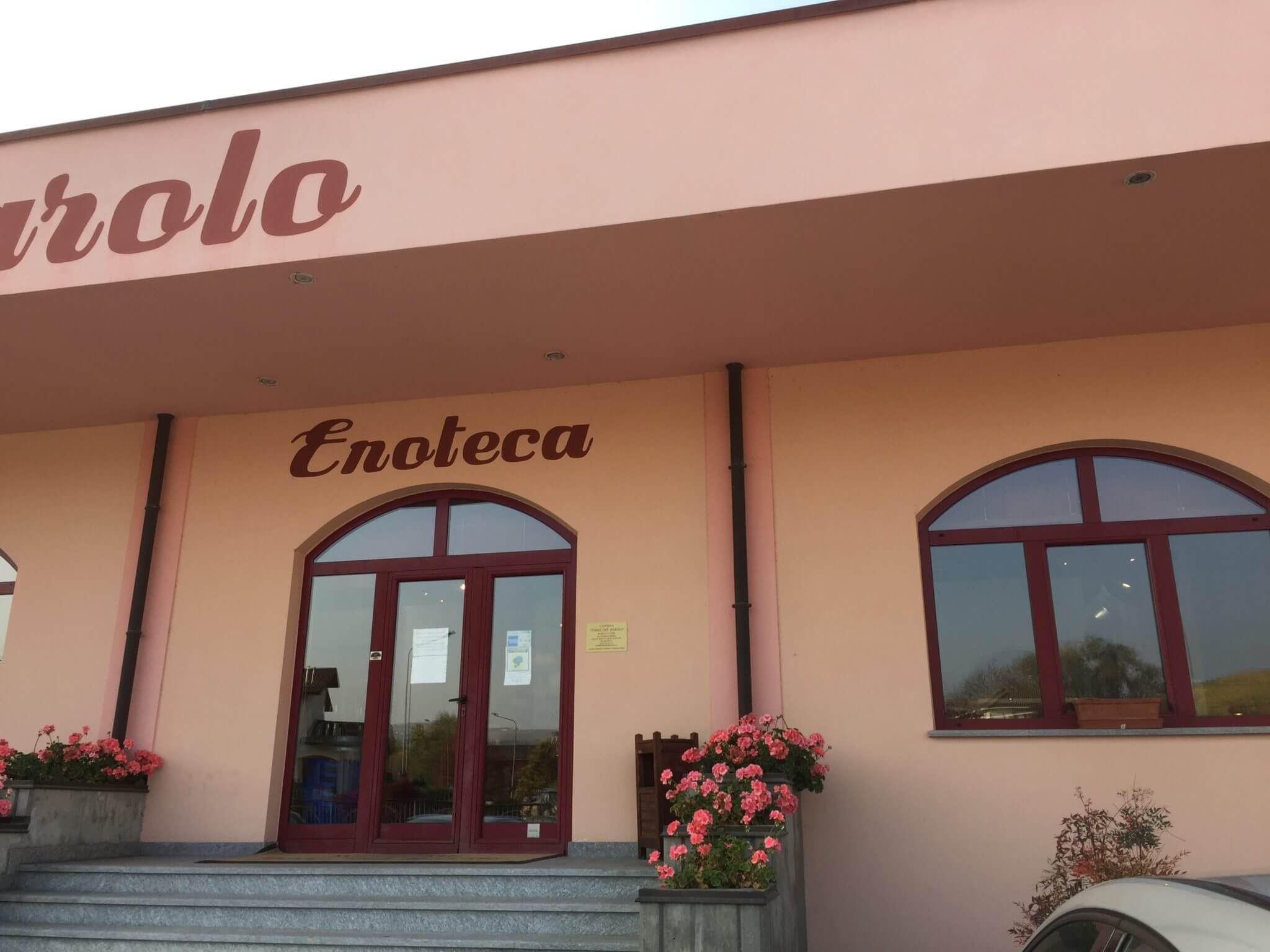 Terre de Barolo has been a landmark in the region for nearly 60 years, standing out for its pink color as well as the parking lot brimming with cars of locals and tourists alike, hoping to fill up the trunk (or boot) of their car with great wine at a fair price. And for those eager for even more of a bargain, they can fill their own bottles with wine dispensed from a hose-like machine.
Though this cooperative exports its wine and has managed expenses and profits well, on my last visit I learned there are some exciting new plans in the beginning stages which will place more of an accent on the "grand cru" sites … but it's impossible to say more until this news released in a formal fashion from the winery. Stay tuned!
So for now I will content you with a tasting of three wines that Danielle put together, representing the best the cooperative had to offer in terms of wines with broad appeal and wines from the best vineyards.

Barbera 2015 D'Alba Valdisera
Deep garnet color, rich jammy strawberry nose, some spice and long earthy finish. Rich concentration of fruit. Percentage of wine spends 3 months on old oak. Early bottling to keep fruit and freshness.

Barolo 2013
This is a blend of Nebbiolo from eleven top vineyards. Young now but the structure is there to improve with age.
2013 (Grand Cru) Barolo Roche di Castiglione
The cooperative now owns this vineyard, which is near the Terre de Barolo facility. It is delicious and very savory, with sweet cherry aromas and flavors and a long finish.
After the tasting, I was lucky enough to be whisked up to the Barolo Roche di Castiglione vineyard, about five minutes from the cooperative. Words can not describe the beauty, even though it lies to one side of a busy two lane highway. It was early November and the fallen orange/yellow leaves just leant to the atmosphere of this historic vineyard.
Soon I will have more exciting news for you about how Terre de Barolo is making the world a better place for its customers as well as its wine growers, but that will be in a few months.
For new, it was great to meet the new team and taste the always impressive wine.