Imagine you are a producer in the Castagnole Monferrato area of Piedmont, and you have a sleek new winery named Montalbera, an exciting young winemaker named Paolo Gallo who speaks English with an Australian accent, and produce a whopping 70% of the world's production of an exotic grape called Ruchè .
First, let's start with present day. The winery is so modern looking it can be seen for miles in the distance in the clear Piedmont sky. It is quite striking looking, both in the exterior as well as the interior.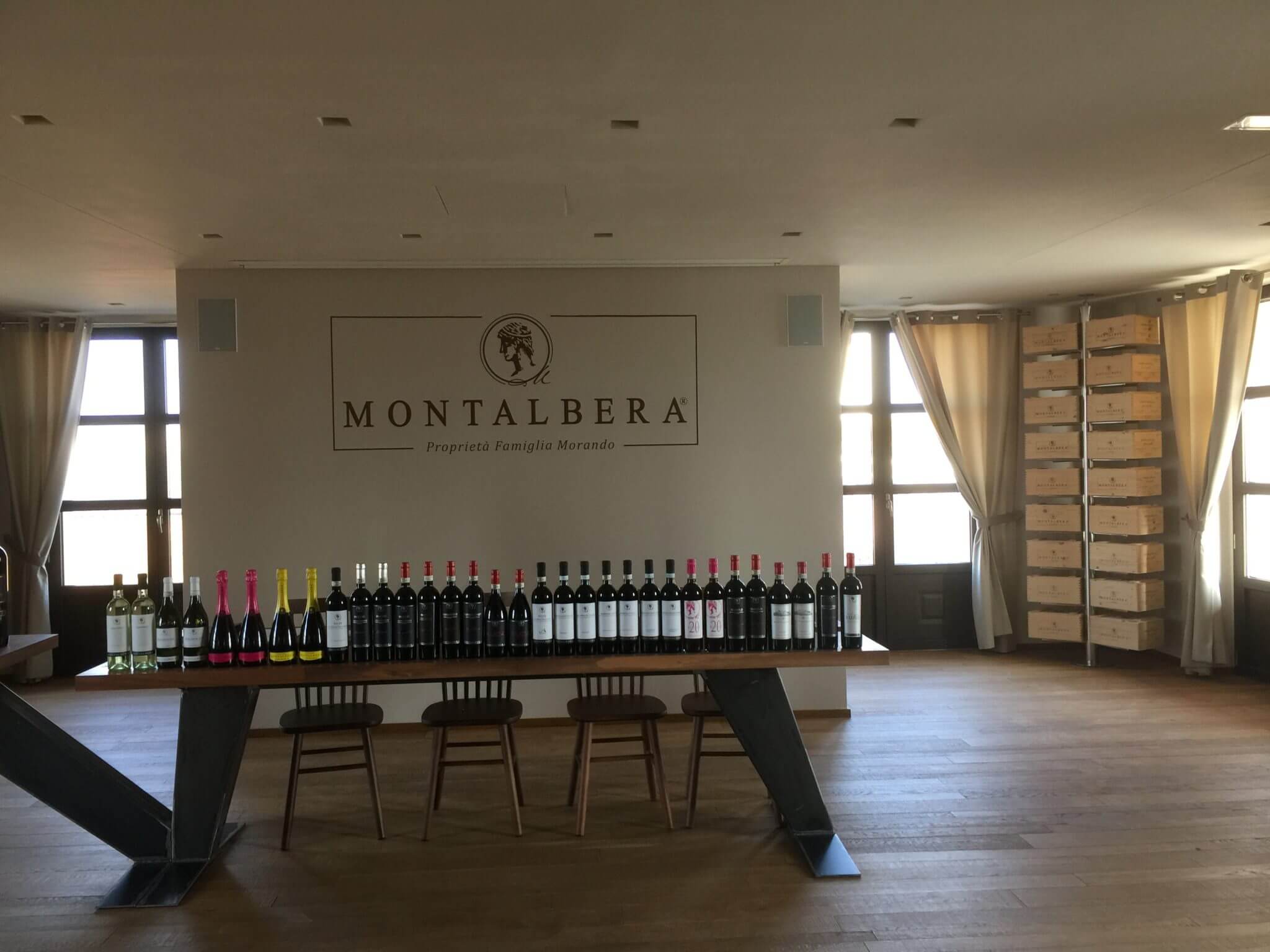 There is an entire separate building just for tasting, again very modern with beautiful large windows and two levels for tasting. The shop is also very nice, carrying not just wine, but various package high-end pasta and other necessities for a Piedmont wine shopping spree. And on a quiet weekday morning, the wine shop is absolutely bustling. It's as if it's the main attraction for miles around.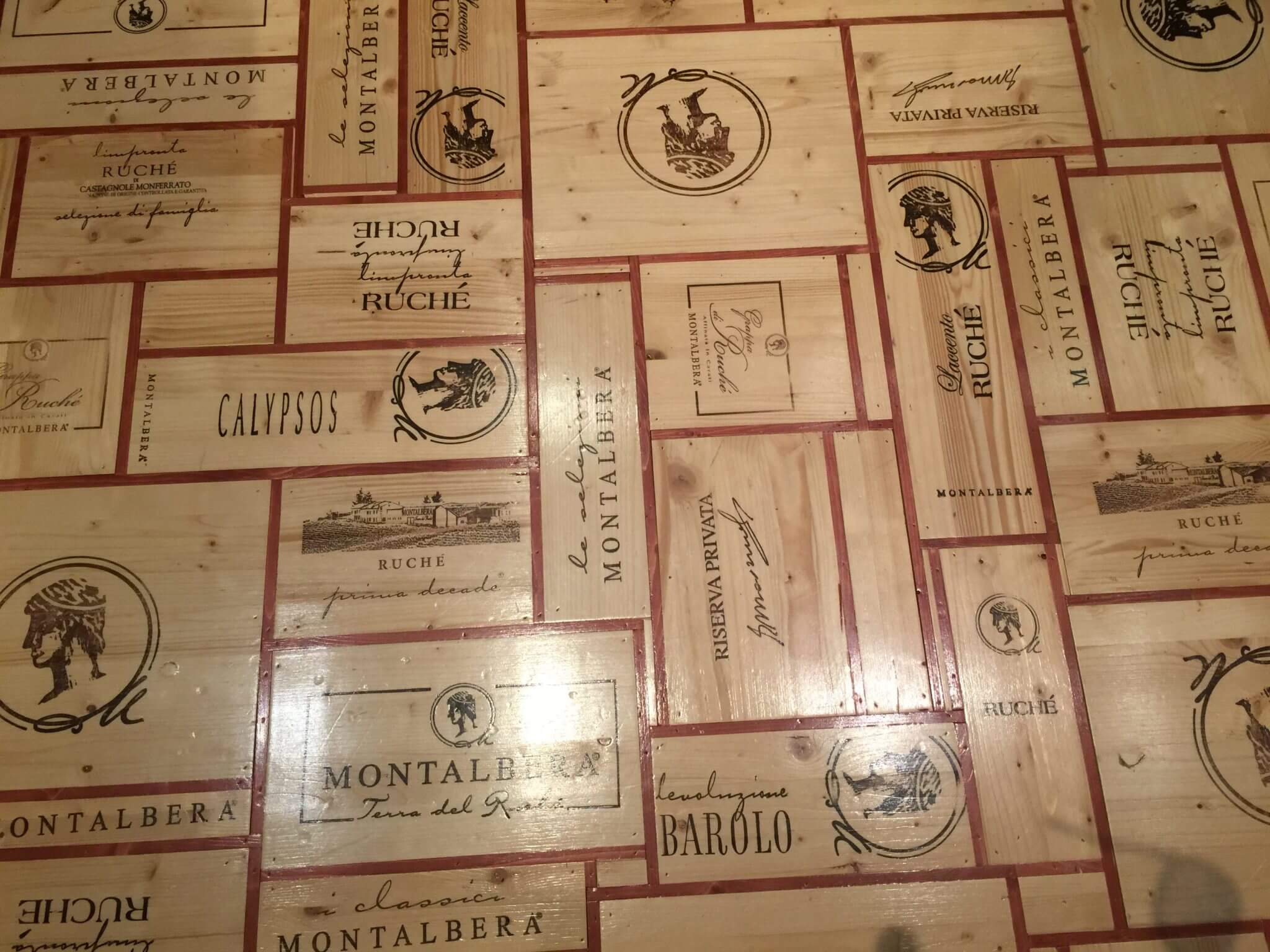 Very soon Paolo meets us and takes us on a tour of the winery. There are tasting rooms everywhere – the ones in the separate building I described to you, and also in the interior, right next to the winery itself.
As you can imagine with such a modern structure, the equipment here is state of the art. And imagine, this is just for the Ruchè grape.
We make ourselves comfortable for the tasting. I began with the 2015 La Tradizione Ruchè di Castagnole Monferrato. It is a rusted garnet color, slightly transparent, with aromas of wild savage cherries – almost brandied cherries. On the palate racy acidity stands up to richly concentrated fruit, and strident firm tannins. And the wine packs a wallop at 14% alcohol, with a firm finish.
The 2015 Laccento (which means "the accent" in Italian) is made from 90% of overripe, late harvest grapes and 10% of grapes that have been dried in the cellar in a sterilized and controlled room. It is a deep purple garnet color, brandied cherries on the nose and palate, zesty acidity, sense of dry extract or something tangible on the palate. Here there is 5 – 7 % residual sugar and 14.5 alcohol. It is from the best vineyard and stainless steel and is my favorite so far.
We try next the 2015 Limpronta – again a rusted garnet color. On the nose very fresh cherries, a floral element like red carnations, remarkably zesty acidity, full bodied on the palate with nuances of red cherries and roses. Very savory in nature with firm crisp finish. This wine spends 15-18 months in oak.
After the Ruchè, we move on to the more widely known Barbera!
The Barbera Wines
2013 Barbera D'Asti Lequilibrio (which means "the balance" in Italian). A deep garnet color, aromas of more brandied cherries, firm acidity, measured tannins, 14.5 alcohol. 15 – 20 months in oak.
2013 Nuda, a provocatively named wine!
On the palate, very clear intense sense of pure cherry fruit. Mostly red cherry but the firmness of black cherries as well. Notable acidity and firm structured tannins along with a focused long mineral finish. Range of time in oak is typically 18 months in a mix of new and older French oak. Very restricted yields.
Finishing with the Grignolino
2015 Grignolino D'Asti Grigne (Grigne means "to laugh")
Light transparent color, on the nose velvet cherries, very high racy acidity, chewy red fruit texture.
It was great to meet winemaker Paolo Gallo … and I wished I had the chance to meet the owners as well, as they seem very creative.
For example, one question I would have is a marketing one, asking the best way to sell their Ruchè on the international market. Since they are already selling 70% of the Ruche in the world, they don't seem to need much help.
But here's what I find interesting … during VinItaly, a large trade fair, they arranged for Poet Mario Sandri to talk about his first encounter with Ruchè to the rhythm of the Venetian Rondò.
During the same trade fair, they arranged for a famous chef, Bruno Cingolani, to pair Ruche with salmon.
Well, in the capable hands of Montalbera getting the good word out about Ruche does not need much help. Ruchè di Castagnole Monferrato DOCG is a wine with an unmistakable character. It has pleasant, floral aromas of rose and violet, fruity notes of apricot, and spices that emerge as it ages, all of which combine to make the wine immediately recognizable in the glass.
A Sante!