Media Room
Welcome to the media room of AWineStory.com.
Founder and Publisher Marisa D'Vari is an author, producer, and former talk show host. The show, A Taste of Luxury, aired from 1995 - 2005 in Boston, New York, and Los Angeles. During that time she interviewed major celebrities in the world of food and wine including Julia Child, Robert Mondavi, Todd English, Charlie Palmer, and Daniel Boulud along with many others.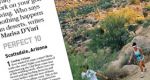 Press Releases
New Free Online Wine Magazine Features Reviews, "Insider Interviews," and Exclusive Behind-The-Scenes Reports in Wine Stores, Trade Events, and Wineries Around the World
TV Shows and Video
Interviews with Julia Child, Robert Mondavi, master sommelier Emmanuel Kimiji, and others.

Photos (high resolution)
Marisa D'Vari (17mb tif) is an excellent resource for background information on many key issues related to wine and pairing wine with food. She has numerous educational accolades, including being one of less than 326 Certified Wine Educators (from the Society of Wine Educators) around the world. Now she is a student in the Masters of Wine program, which at present has under 243 members ... less than three dozen of them women.
Marisa D'Vari can address the following questions:
1. Delicious and affordable wine to serve for holiday dinner parties.
2. How to choose wine for your host
3. How to order with confidence at restaurants
4. Business dining: The three things you must know
5. Choosing holiday sparklers