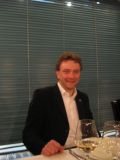 "My grandfather started the winery in 1960," says the handsome and quite charming Massimo Zorzettig, co-owner and sales director for La Tunella, a winery located in the northeastern region of Friuli, Italy. I am sitting with Massimo, his translator, and several journalists for a tasting of his wines.
If you enjoy Italian wines, you are not alone. For decades, Italy exported more wine to America than any other country. And if you like the white Pinot Grigio grape variety, you've probably had many Italian wines. Typically, they are light and refreshing and work well as an aperitif.
Yet (full disclosure here) I must admit that in the past I personally have not cared for this varietal, whether it is from Italy or California. So when Massimo pours me a glass of a white wine and tells me it is a Pinot Grigio, I am rather surprised by its full body, weight, minerals, and a rich creamy mouth feel that brings forth memories of a fine white Burgundy.
"Does the wine rest on its lees?" I ask Massimo through his interpreter, a handsome blond woman who wears no makeup and still manages to look soignée in that sophisticated Italian way. Lees are the name for dead yeast cells left over after fermentation, and though the idea of them in your wine may sound unappetizing, the stirring of these lees is partly what gives French chardonnay and some other whites their body and buttery flavor.
"Oak?" I ask. I am told this Pinot Grigio has no oak or lees stirring; it gets its weight and body from the soil the grapes are grown on. To prove it, Massimo hands around a little box of soil. The wine is truly delicious, and I accept another glass with pleasure, thinking I'd serve it as an aperitif or with entrees like poached salmon, sole, and other light fish dishes. You will be able to find it in your local wine shop (importer is Quintessential Wines in Napa).
We taste two more whites, the Tocai Friulano Selenze and Ribolla Gialla Selenze, with antipasti prepared by the chefs at Azalea restaurant on 51st Street in New York, a charming restaurant serving traditional fare. The Mozzarella di Bufala, Carpaccio di Manzo, Bruschette Miste, Gamberetti, and Crudo di Tonno go well with the wines, both very good and mineral rich, before moving on to the reds.
I enjoy the Cabernet Franc and Refosco dal Peduncolo with my Tonno alla Griglia (green peppercorn-crusted Tuna). I am partial to the Cabernet Franc, which is one of my favorite varieties. It is a main grape in France's Loire Valley and an ingredient in the Bordeaux blend, yet you will also find it in New York's Long Island and now in California. Both the wines are well made and pair well with a wide variety of food, from meat to chicken to even fish, depending on the texture of the fish and the way it is prepared.
As I get to know Massimo I become curious about his family – specifically how a family of farmers in 1960 can, in 2009, be the owners of premium winery and own a gorgeous estate (the picture Massimo shows me is romantic in the extreme, and even has a full moon rising above it). I glean it has something to do with the heady combination of a spectacular soil in the vineyards, and some beneficial tax incentives. Then again, this period represents a half-century, with the last twenty years particularly strong in showing improvement in Italian wine viticulture, vivifications, and to some extent, laws relating to the appellation.
The estate of La Tunella covers roughly 70 hectares of vineyards, which fall within the municipalities of Cividale del Friuli, Premariacco, and Manzano. Most of the vineyards are located on hillsides within the D.O.C Colli Orientali del Friuli wine-growing region. All of the La Tunella wines exported to the U.S. have the D.O.C. designation.
The terroir in the Eocene hills is composed of an alternation of marl (clay and limestone) known as "ponca" in the Friulan dialect) and sandstone. Vines are between four and 25 years old, with plan density from 4,500 to 5,000 vines per hectare depending on the vineyard's age. For wine geeks or students who must know such things, the training system is both Guyot and "monocapovolto." (Note: training has to do with the way vines are trained to grow, i.e. supported on a wire, etc.)
I'm glad my evening with Massimo helped me re-evaluate my relationship with Pinot Grigio, and realize I should not uniformly reject this grape, but look for its most elegant expression with the right producer. In America, Pinot Grigio has a reputation for being affordable and is often served by the glass. La Tunella's Pinot Grigio and all its wines are several steps above what many of us have experienced.
Salute!