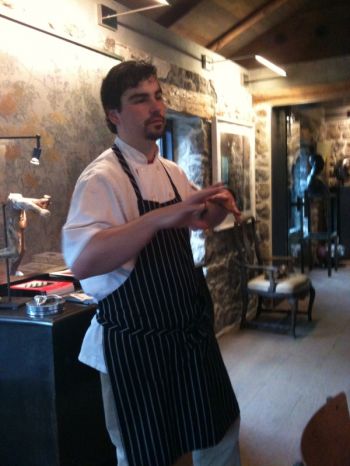 …. it seems like I've been going to the Napa Valley every few weeks this year. Only February, and I've been in late January for the Master of Wine educational seminar and just last week, the Symposium for Professional Wine Journalists and the Premiere Napa Valley Barrel Auction.
Usually Yountville looks the same from year to year, yet in the past several months I've noticed new activity in this gorgeous, ancient looking structure along Yountville's "restaurant row." It turns out that the name is Ma(i)sonry and it is owned by Michael Polenske who also owns the Pomerol style Blackbird Vineyards winery.
Last summer was the first time I really noticed Ma(i)sonry as it looked like a very cool party was going on. Was it a restaurant? It turned out to be the opening of an art exhibit of Chiara Mondavi (yes, granddaughter of Robert) and we were welcomed inside.
Of course, it was a gorgeous summer day and the reception was held in the delightful garden. We chatted a bit with Michael Polenske, whom we met a few years back at an event related to his Blackbird Vineyards. Yet it wasn't until last Friday, when we were invited to Ma(i)sonry for a press lunch, that we were able to get some updates on his wines and projects.
potato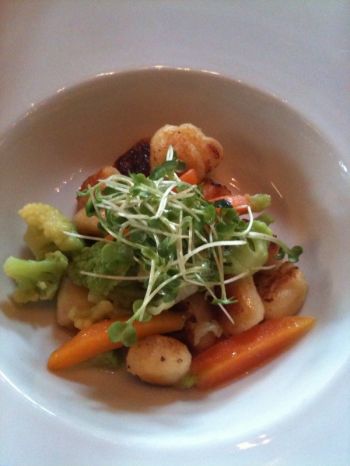 Michael had been a investment management specialist (hence the artful fruition of his winery and the picture perfect showcase for his wines and art) for over twenty years. He went on to get diplomas in agriculture and create Blackbird Vineyards, which has won many awards.
Ma(i)sonry was acquired to serve many purposes. First, Michael wanted to create a fabulous tasting environment for his own wines and showcase local artists. And with 10,000 feet and various rooms, niches, and the garden, he could also offer the venue as a tasting space for smaller boutique wineries that do not have a tasting room or marketing force on their own. Beyond the art, the structure is richly furnished with one of a kind pieces.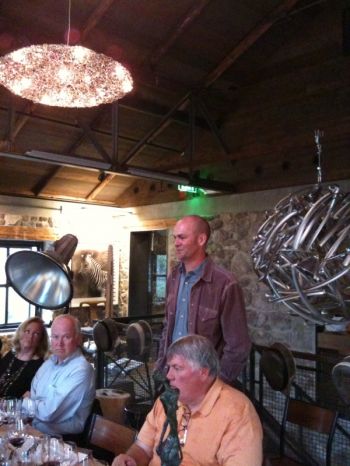 Of course, the space came in quite handy as a delightful venue for journalists to taste the cuisine of Ma(i)sonry's resident chef Taylor Mason and sipped some signature Blackbird releases (below)
Blackbird 2009 Rose
Blackbird 2007 Arise
Blackbird 2007 Illustration
Blackbird 2008 Premiere Napa Valley blend
I liked the space a lot and wish I had the foresight to snap it up before Michael! Happily, Ma(i)sonry is available for rent and Chef Taylor Mason is fabulous.
Info: Contact Denis Collins at 707 944 0889
http://www.maisonry.com