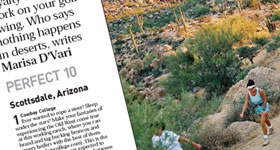 I am sometimes asked about where my articles appear in addition to my online wine magazine, https://awinestory.com
Virtually everything I write appears on the popular site http://www.Blogcritics.com. I was Tastes critic for a while and if you click on the Tastes section http://blogcritics.org/Tastes most articles are mine.
My articles also appear in The Juice (the national newsletter for Local Wine Events).
Below is the latest breakdown of stats
NY Wine Pairing Examiner
According to editor Nikki Brodt: "In June of 2009 the site had 30 million page views, and 13 million unique visitors. In the Food & Drink Channel specifically, we had 620,000 page views and in the NY edition of the Food & Drink Channel there were 30,000"
The Juice (Local Wine Events national newsletter)
According to editor Eric Orange: "We just crossed 100,000 subs to The Juice. In recent tracking, we picked up 3000 new subs in 25 days. If you pretend to post a classified ad here, http://www.localwineevents.com/classified/submit.php. You can determine how many subs by region. Choose "regional" and lower a region. The number to the right is The Juice subs for that region."
Blogcritics.com According to Editor Eric Olsen: "Hi Marisa, 4 million page view a month. Best, EO"
So there you have it. Let me know if a piece in these publications about the Bottles & Bites program works for you.