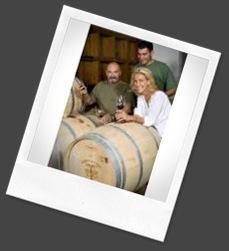 "You must have some fresh Truffles on toast!" says attractive blond Valérie Rousselle-Riboud, looking very glamorous and jet-set in a chic white dress. We are sitting at a little table overlooking her enormous estate, sipping her top level Rosé wine (called Inspire) and eating the most incredible truffles I've ever had in my life. There is something magical about the truffles (thank you, Fatima, but we will get to that later) and also something very magical about the scene.
Now you must have seen gorgeously made films on the big screen featuring the aristocracy enjoying their estates, yes? Or at least that party scene in The Great Gatsby. Well, this is that scene. The night air is gorgeous – warm yet with a slight breeze, and the Inspire Rosé wine goes down well as Valerie tells us the story of her life with her lilting French accent (a former executive in the hospitality trade, she speaks many languages).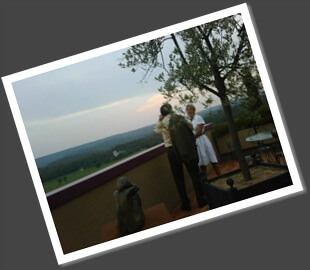 Valerie's life is a fascinating one, having grown up in St. Tropez and studying the hotel business at The Swiss Ecole Hoteliere de Lausanne, later working for the Groupe Barriere Company. In 1994, she found Chateau Roubine, an expansive collection of vineyards and an enormous Chateau and bought it.
Though she studied winemaking and oenology at the French Wine University in Suze La Rousse, she is assisted by Olivier Nasles (oenologist consultant), Jean Louis Francone in the vineyard, and Pierre Gerin in the cellar.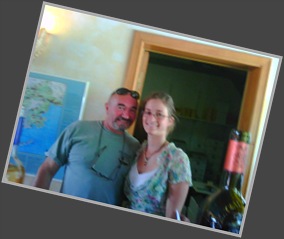 Valerie is passionate about her winery (which produces a half million bottles a year), because of the quality of the wine, both in terms of the terroir and the attention that goes into its production. The vineyard is spread between the Verdon River and the Mediterranean sea, and surrounded by pines and oak trees with an ideal east/west exposure, and chalky clay soil. It is actually one of the oldest wine estates of France and in 1953, the Ministry of Agriculture awarded the property with the "Cru Classé" title, a prestigious vintage wines award. During the excellent dinner, prepared by her talented chef Fatima, we enjoy tastes of her other wines.
One of my favorites was the red Cuvee Prestige 2006, a blend of Cabernet Sauvignon and Syrah, which is paired with the lamb. During dinner, we also learned the source of the curious "figure" on the label of her Inspire (prestige class) wines. It is an actual rootstock, yet to Valerie its shape represents both the feminine and the masculine (depending on how you look at it). Listening to Valerie speak about how she discovered the name, the rootstock image, and the concept behind it is absolutely mesmerizing as her face lights up with excitement like a child on Christmas morning.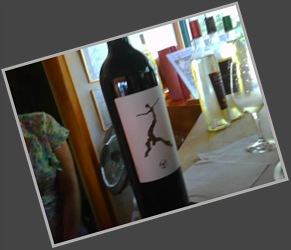 The next morning, we tour the bustling winery and see where the grapes are received in the middle of the night/early morning to preserve freshness. For red wine, the grapes are de-stemmed and crushed before undergoing a long maceration period of 1 month. The vinification takes a long time to ensure a well structured robust wine and to extract all the deep, rich, garnet red colours from the skins. After going through their malo-lactic fermenting period, the wines are aged in oak casts for 10 to 14 months, one third of which are renewed every year, they are then blended in cuvee before being bottled.
The whites, rosés, and reds come in three different styles and price points: Classique, Prestige, & Inspire. Cuvée Classique combines modern wine making techniques with local tradition and is a typical light and fruity Provencal wine, perfectly suited to Mediterranean cooking. Prestige labels bear the "Amalfitaine" cross, mark of the Templars, once owners of the Château : discretion, temperance, justice and strong spirit. Both complex and original, the vintage "Terre de Croix" is made of racy and highly gastronomic wines. And Inspire reflects the highest aspiration of Chateau Roubine.
Now beyond the delicious and affordable wines, Chateau Roubine is also a 'bed and breakfast' of sorts where romantic couples, families, friends, and groups with a common interest in wine and food can come for a week to live in luxury in the midst of a fabulous vineyard.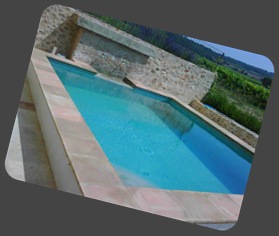 Chateau Roubine's guest house is among the most charming I have seen, a newly built guesthouse called Mas des Candeliers. I had a tour of the rooms and they are gorgeous beyond belief, with fabulous kitchens and bathrooms and living areas. A couple traveling with a baby or small child and nanny will have enough private space, and the guest house (it is actually more of a block of guest houses with individual doors and keys) is also great for family reunions when people want to get together for meals but otherwise have their own space. You will find a little "wading pool" that children will love, and adults will appreciate for a quick dip in the hot sun. What I also liked about Mas des Candeliers is that there is a nice patio where children can play games or adults could relax in the sunset with a glass of wine.
Though the rooms are gorgeous and Valerie herself can act as your concierge, helping you find other wineries to visit, you may want to arrange your trip to be a mini cooking school. Chateau Roubine has a state of the art teaching kitchen, very large, where students can learn to prepare dishes from Provence, and even shop for the ingredients from the market. Though Fatima is an excellent chef, Valerie explained that an English-speaking chef, accustomed to professional teaching, will be the instructor and will coordinate the dishes with the client.
You can learn more at http://www.chateauroubine.com or by calling 33(0)4 94 85 94 94 or emailing contact@chateauroubine.com
Also, be sure to visit the web site http://www.winesofprovence.com for more information about the region.