I am so excited! I just finalized arrangements for attending the Auction Napa Valley 2011!
Having attended for many years, it's really one of the highlights of the wine world. Its a chance to meet the true wine legends in a very congenial and relaxed setting. I met Robert Mondavi this way, having been introduced to him at a  local restaurant and was able to interview him for my television show.
I was also lucky enough to meet Jack and Jamie Davies of Schramsberg (bidders have the opportunity to sign up for tours, and they took myself and my friend on a hayride — my first ever). In past years, the Davies family created other fun events, like a "tasting extravaganza" in their cave, complete with gourmet hors d'oeurves at various stations with different sparkling wines.  Last year, I was able to attend an excellent presentation by Hugh Davies.
This year, one of the hospitality events I'm invited to is Bella Notte at Signarello Estates-– Ray Signorello invites guests to an extraordinary culinary evening featuring acclaimed Signorello Estate wines and Snake River Farms American style Kobe Wagyu beef prepared by Suzette Gresham, acclaimed San Francisco Chef/Proprietor of Acquerello Restaurant and their own Estate Executive Chef Michael McMillan. The evening begins with Signorello Estate's special vintage selections in large format bottles from Ray's private wine library … it should be fab!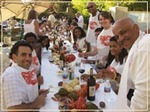 The other event is hosted by Behrens Family Winery … a Spring Mountain Cookout!
Owners Les Behrens and Lisa Drinkward host fun, food and revelry high atop Spring Mountain! This will be a festive meal of open-fire, elevated-campout fare, perfectly paired with a selection of current and past releases.
There is still time to register as a bidder — it is a fabulous event and I hope to see you there!  (Get More Info Here)
 
Event Schedule for Auction Napa Valley 2011
Schedule of Festivities
Thursday, June 2
"Welcome to Napa Valley" bidder dinner parties with the vintners.
Evening, locations throughout the Valley
Start your Auction Napa Valley experience on the right note as an honored guest at a festive soiree hosted by one or more of our vintners. Held at one of their wineries or homes, the evening affords you an insider's look into the cellars and lives of some of the world's most-renowned names in the wine industry.
Friday, June 3
The Barrel Auction & Marketplace
11:00 am – 4:00 pm
The Culinary Institute of America at Greystone, St. Helena
The Barrel Auction & Marketplace is a grand-scale, high-energy celebration of not only Napa Valley's wine's, but its personalities, its food and the Valley itself – all enjoyed at an incomparable setting: the historic Greystone Cellar, now home to the West Coast campus of the renowned Culinary Institute of America (CIA).
At the Barrel Tasting & Auction, get up close and personal with winery owners and winemakers behind 100 of Napa Valley's famed wineries, as they offer samples of still-aging wine directly from barrel for you to taste. Like what you taste? Place a bid, and if you're one of the top ten bidders for that lot, you can look forward to a future delivery of 12 bottles of that wine from the winery's cellar directly to yours.
At the Marketplace, more than 100 vintners will pour their finest releases for you, and you'll have the opportunity to place bids on E-Auction lots that many of these vintners have put together. To go with what's in your glass, dozens of Napa Valley renowned restaurateurs and artisan food purveyors will ply you with their specialties, from savory to sweet.
How about a little food for the brain? We're offering several tasting seminars in the CIA classrooms that'll give you a top-notch education on Napa Valley's leadership and innovation in the wine industry – as you taste for yourself the handsome results of these efforts.
You'll also have the opportunity to purchase limited-edition Auction Napa Valley apparel and items at the Auction's retail store.
"Friday Night in Napa Valley" bidder dinner parties with the vintners
Evening, locations throughout the Valley
After an afternoon with hundreds of your closest wine-loving friends, switch gears with another dinner party – this one a little smaller and more intimate, as befits a Friday night in Napa Valley – with vintners welcoming you into their winery, vineyard or home for the evening.
Saturday, June 4
The Live Auction
1:00 pm
Meadowood Napa Valley
On Saturday, Four-Day Passport holders gather at Meadowood Napa Valley for Wine Country's event of the year.
Live Auction Lot Preview
Napa Valley Vintners are a creative bunch and thrive on collaboration: meet and mingle with the vintners behind the 40 mega-lots specially selected for the Live Auction as you get your one and only opportunity to view these offering.
Pre-Auction Lunch
After that, enjoy an elegant picnic lunch prepared by Napa Valley's own Cindy Pawlcyn, chef/owner of Cindy's Backstreet Kitchen, Go Fish and Mustards Grill – and of course an array of refreshing whites and delicious reds to pair with your lunch, poured by the vintners themselves.
Then pick up your paddle, head into the main tent for the highlight of the weekend…
The Live Auction
Take a seat at your vintner-hosted table as the weekend's highlight begins. The dynamic auctioneering duo of Fritz Hatton and Ursula Hermacinski will tease and tempt you with the amazing lots up for bid and will keep your hand glued to your paddle until the final gavel drops. And with every successful bid, that lot's vintners will join you at your table for a congratulatory toast to your win.
Post-Auction Dinner and Party
Take the festivities back out onto the lawn as chef/restaurateur/TV personality Michael Chiarello provides a show of a different kind, demonstrating his culinary wizardry for guests as he works to create a feast worthy of the day's festivities and the dinner's wines.
When you sit down to enjoy the meal, it's in the good company of your vintner hosts.
And don't forget to bring your dancing shoes, because after dinner, we'll dance under a canopy of stars.
Sunday, June 5
Farewell Fete
10:00 am – noon, Vintners Glen at Meadowood Napa Valley
End your weekend on the right note by joining the vintners for one more bite to eat and a glass of wine enjoyed outdoors. You'll also have the opportunity to place any last bids on e-Auction lots before they close later in the day.
We'll then send you off with our warmest thanks for helping us continue our venerable 31-year tradition of celebration and giving known as Auction Napa Valley.