Look at the incredible aerial view of Marston Family Vineyard above … even so far away, one gets an incredible sense of the soil that produces such incredible Cabernet Sauvignon.
Marston Family Vineyard was first planted in the late 1890's on the southern slopes of Spring Mountain, just west of St. Helena. The vineyard is part of the appellation known as the Spring Mountain District. The vineyards comprise about 10 percent of the 400 acres of heavily wooded land.
Though it's often difficult to buy this wine, here's some good news! You can attend the Napa Valley Wine Auction the week of June 2 – 5 (Lot 19) and purchase the wine for charity (and a lot of fun extras) in person …
… or if you can't get to Napa, starting May 29 2011 you can bid online (just click here)
SInce I'm in NYC, I am so luck as I can go to my favorite Park Avenue Spring restaurant and have three vintages of Cabernet from their family cellar paired with four courses of chef Kevin Lasko's cuisine!
Date: May 26 2011 at Park Avenue Spring (call 212 644 1900 for more info)
Now, more about Marston Family Vineyard …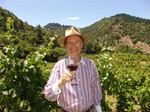 The vines planted are Cabernet Sauvignon, Merlot, and Syrah. During the growing season, the terraced hillsides, which range in elevation from 700 to 1,100 feet, benefit from cool afternoon breezes and daytime temperatures that are as much as ten degrees cooler than the lower elevations of the Napa Valley. The vineyard is situated above the fog line, resulting in extended hours of sunlight. The additional sunshine coupled with the lower temperatures allow the fruit to ripen more slowly and uniformly, which ultimately enhances the wine's concentration, complexity and texture. Furthermore, the rocky, mountain soils limit the vigor of the vines. As a consequence the clusters and the individual berries are smaller, which dramatically reduces overall yields. These diminished crop levels intensify the character of the wine. There is an old belief attributed to the French that grape vines are like people in that they need to suffer a little in order to develop character.
Michael Marston has donated 240 acres of Marston Family
Vineyard ranch to Forever Wild Conservation easement.