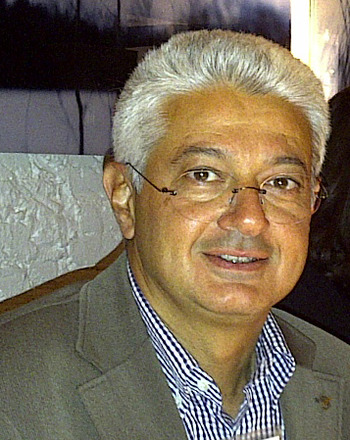 Imagine yourself in Ampuis in 1781.  This is a tiny town in the Northern Rhone, famous for its red wine made from Syrah and white from Viognier. Joseph Vidal-Fleury, the founder of Vidal Fleury, was an important grower and negotiant. Today this is the Rhone valley's continuously operating winery.
Since the 1980s Vidal-Fleury has been owned by the family of Etiene Guigal, yet operated as an independent firm with vineyards in both the northern and southern Rhone. Today I had the good fortune of meeting winemaker and General Manager Guy Sarton du Jonchay, a very affable gentleman who has many fascinating theories about wine.
$25 million recently was invested in Vidal-Fleury, used to renew the winery and optimize aging, bottling, and maturation. A new logo was created to reflect this change (and create more consumer recognition).
Today I had the chance to taste many wines, including the 2009 and 2007 Cotes du Rhone white (made from mostly viognier) selling for $14 that is incredibly fresh and delicious, with racy apricot on the palate and a long finish. The soil is clay, granite, and sand. To get the the concentrated flavor, the wine is aged on lees with battonnage for six months, followed by three months maturation in bottle. I also liked the 2007 Saint-Joseph Rouge with flavors of blackcurrant and pepper.
One of the highlights was the Cote Rotie Brune Et Blonde 2004, a very elegant wine culled from syrah on both the Cote Blonde (southern part, with soil consisting of gneiss covered by a top layer of siliceaous calcareous soil) and Cote Brune (northern part, with schist mixed with mica and iron oxide). This wine was aged on the lees for four years in barrels and wood vat "foudres" followed by extended maturation in botttle.  The nose was of soft flowers, tobacco, and black olive and very gentle flavors of soft cherry on the palate.
I liked the Cote du Ventoux Rouge 2009 (60% syrah, 30% grenache, 20% others) with its blueberry flavors, yet went wild for the white Muscat d Beaumes de Venise 2008. The residual sugar was 120 grams per litre yet it did not taste that sweet. The Muscat grapes are grown on sandy Marl soil, hand picked when they have at least 353 grams per litre of alcohol, pressed, racked, then fermented in stainless steel tanks with selected yeasts. Fermentation is stopped with pure alcohol to fortify the wine, which is then aged on the lees with battonage for twelve months. Really loved the clean, pure, apricot flavor with undertones of honey.
Guy Sarton du Jonchay is a very interesting individual and his wines are fabulous.  He has had many important positions in his career, including senior winemaker at Barton & Guestier. During our time together, Guy kept mentioning how Vidal-Fleury has revitalized itself. Though I have not tasted the former Vidal-Fleury, before the rennovation in the winery, the new wine I am tasting today is quite delicious. They are available in the U.S. and definately a quality wine.