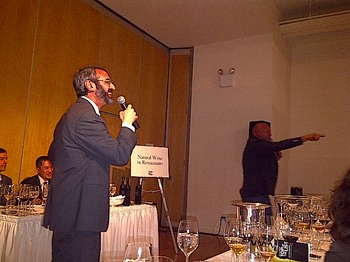 Joshua Greene with Movia owner/winemaker pointing … topic: natural wine movement
Wow, talk about a wine education! While everyone else was enjoying the delicious wine at the Top of the List Tasting, I was attending three fabulous seminars with the luminaries in the wine world.
Santorini Beyond Greece
W&S senior editor Tara Q. Thomas lead an exploration of wines from the Greek island of Santorini with Kamal Kouiri, wine director of Molyvos and Scott Carney, beverage director of Junoon. The featured wines included Santorini's indigenous assyrtiko, the source of dry, mineral-driven, high-acid whites. Grand Central Oyster Barprovided delectable bites for pairing with the lineup.
The wines below were all fab: my favorites were the Gaia 2010 Wild Ferment, Gaia 2009 Santorini Thalassitis (intense nose with minerals and lime zest)m and the 2006 Sigalas.
Boutari 2009 Santorini
Boutari 2007 Santorini Kallisti Reserve (barrel-aged)
Gaia 2009 Thalassitis
Gaia 2010 Wild Ferment
Sigalas 2010 Santorini Assyrtiko—Athiri
Sigalas 2009 Kavalieros Single Vineyard
An older vintage Sigalas—2006

 
 ——————————————————————————–
Natural Wine in Restaurants
 W&S publisher Joshua Greene and Jean-Georges beverage director Bernie Sun discussed the natural wine movement  in restaurants with owner/winemaker Ales Kristancic of Movia and Jason Jardine, president of Flowers.
This was a fabulous seminar: Jason was a font of knowledge (lots of goodies for my MW studies) and Ales was passionate and entertaining. Lots of drama when Ales opened a bottle of sparking wine. D
Movia 2003 Goriška Brda Puro
Movia 2007 Goriška Brda Lunar
Nikolaihof 2009 Wachau Hefeabzug Grüner Veltliner
Beaux Frères 2009 Willamette Valley Pinot Noir
Flowers 2009 Sonoma Coast Camp Meeting Ridge Block 2 Pinot Noir
Flowers 2009 Sonoma Coast Sea View Ridge Block 33 Pinot Noir
West Coast Pinot Noir Stars: A Perspective on Pinot Noir
W&S senior correspondent Patrick J. Comiskey discussed various winemaking approaches to pinot noir with three acclaimed pinot noir producers—Merry Edwards of Merry Edwards, Jim Clendenen of Au Bon Climat and Harry Peterson-Nedry of Chehalem. Wines were paired with foie gras from Hudson Valley Foie Gras.
This was a rich, educational seminar. It was interesting to explore the styles. It was incredible to meet these winemakers, and though the seminar was not technical enough for MW purposes, it did shed light on the state of PNs in restaurant these days. Patrick was a fabulous moderator.
Chehalem 2008 Ribbon Ridge Ridgecrest Vineyards Pinot Noir (Ideal Winemaker Wine)
Chehalem 2008 Willamette Valley 3 Vineyard Pinot Noir (Ideal Restaurant Wine)
Merry Edwards 2008 Russian River Valley Pinot Noir (Ideal Restaurant Wine)
Merry Edwards 2008 Russian River Valley Coopersmith Pinot Noir (Ideal Winemaker Wine)
Au Bon Climat 2008 Santa Maria Valley La Bauge Au-dessus Pinot Noir
Au Bon Climat 2008 California Isabelle Pinot Noir