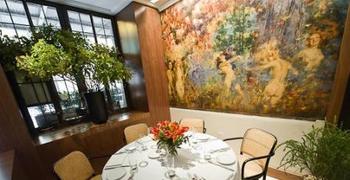 Fabulous evening last night at the Leopard at des Artistes! Very 'old school' Italian in terms of the elegance of service, with fish deboned tableside. Bar was … interesting  … and is someplace I would definately go when I am in the mood to jot down character studies for a new book or screenplay.
When we arrived, one darkly handsome, well dressed man (bow tie, jacket, pocket hankerchief)  informed us he was "time traveling." Two women sat at a table in the bar area, eating salads very slowly.
Our table, pictured above beneath the famous mural, was quite nice. Our unofficial host for the eventing, Italian by birth and in the wine trade, ordered all the wine: Regolo Sartori Rosso Veronese di Ripasso from the heart of Valpolicella Classico region (the same as Amarone), Castello Banfi Belnero, Banfi's Proprietor's selection of Sangiovese from their Brunello Vinyard that is elegant and expresses their terroir and our winemaking philosophy.
The cuisine was very good and fresh – I liked the portion size (tiny) and can see why the prices are considered high, given the attention and quality of each dish. Overall, a very positive experience.