Do you recall the California gold rush from your fourth grade history class? At the time, people from all over the world headed to Northern California to make it big.
Today, Argentina is the "new California" and the new "gold" are vineyards planted in regions with the right soil, exposure, and access to water to assure quality wine.
… and what's really interesting is that "Old World" wineries are seeking out these regions, and often, the wine produced is a blend of what is best of the Old and New World.
This is the case with Bodega DiamAndes — the same quality one would expect from Bordeaux (the original family vineyard is in Graves) with its structure and tradition of French oak, yet with the more assured ripeness of Argentina.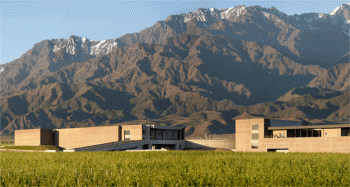 So tonight I just finished a fabulous wine pairing dinner hosted by Bruno LaPlane, General Manager., where guests learned the history of Bodega DiamAndes and had the opportunity to taste some of their wines.
It all started in 1996, when Alfred-Alexandre and MIchele Bonnie (owners of Bodega DiamAndes) purchased Chateau Malartic-Lagraviere, Grand Cru Classe de Graves.
In 2005 they acquired Chateau Gazin Rocquencourt, 28 hectares situated next to Malartic-Lagraviere, and that same year, purchased 115 hectares within Clos de los Siete in Argentina (with an additional 20 hectares to be planted later) which was started by wine consultant Michel Rolland in 1998. DiamAndes gets its name from the way the Andes Mountain reflects on a nearby lake, sparkling like a diamond.
Tonight we tasted several red and white wines, most aged in French oak barrels (on average, a third new) for twenty months. Yet even the stainless steel tanks have a certain savoir fare, as their technology (unique to DiamAndes, Vega Sicilia, and Chateau Gazin Rocquencourt) consists of a 5cm thick layer of polyurethane applied between the double skins of the tanks that cushions the contractions and expansions that are produced in the tanks with changes of temperature experienced during fermentation.
My favorite wine of the evening was the DiamAndes Gran Reserva 2007, the first wine produced by this promising vineyard with the help of Michel Rolland: it is a blend of 70% Malbec and 30% Cabernet. The 130‐hectare (321 acres) vineyard, of which 111 ha are currently cultivated, is set at an altitude of 1100m (3600 feet).
It is planted with a majority of Malbec and some Cabernet Sauvignon, Merlot, Syrah, Petit Verdot as well as Chardonnay and Viognier that will be used for futurewines. The wines are fermented in stainless steel tanks with unique & innovative temperature control technology found in very few other renowned wineries around the world for optimum conditions.
The wines are then matured in French oak barrels from the finest French coopers, in a circular temperature and humidity controlled barrel hallwith a capacity of up to 2800 barrels.
Bruno himself poured me a glass of the 2010 Malbec, and one of the first things I noticed was that it  immediately expressed the potential to age. I liked the Chardonnay and Viognier as well, with the Viognier being a style similiar to what one might find in the Southern Rhone, rich and ripe with restrained fruit.
Quite a few celebrities of the wine world at the dinner at NYC Nuela that night, including a few very active in the Bordeaux trade.  The wines are available in NYC and elsewhere and represent the top eschelon of Malbec in Argentina.