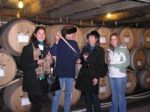 The 2010 Finger Lakes harvest was the warmest growing season in nearly forty years and the wettest since 1973, resulting in a good vintage overall yet a varied style with a general slant toward lower acid, intense fruit, and ripeness.
Riesling grows well in the cool climate and varied soils of the Finger Lakes as the sloping topography creates a macro climate protecting vines from the region's typical cold winters, while warding off the high humid levels found in other non-arid wine regions.
Between the lakes, varying meso and micro climates create Rieslings with diversity and range.
A "Tweet up" of these wines took place on September 22, 2011 and here are some tasting notes. The Rieslings mostly retail for under $20 a bottle and pair especially well with spicy food.
Glenora 'Dry' Riesling 2010
Exotic tropical and citrus fruit flavors, crisip acidity, and clean finish with a hint of sweetness. Off dry with 14 g/l Residual Sugar.
Hunt Country Vineyards Dry Riesling 2010
Green apple flavors, floral notes, and a long clean finish. Dry with 4 g/l of residual sugar.
Keuka Lake Vineyards Dry Riesling 2010
Very balanced, crisp and clean riesling with mineral notes. Dry with 7 g/l residual sugar.

Lakewood Vineyards Dry Riesling 2010
Rich and assertive with a residual sugar of 8 grams per litre that is just under the legal definition of "dry." Full flavored.
Dr. Frank's Vinifera Wine Cellars semi Dry Riesling 2010
This is the first officially semi dry wine tasted, with 27 grams of sugar per litre. It is rich and full flavored with concentrated fruit with a mouthfeel of apple, peach, and mandarin oranges and zesty fruit finish.
Keuka Spring Vineyards Riesling Finger Lakes 2010
This is an off dry yet refreshing riesling with floral, lime, citrus and a refreshingly smooth finish. Residual sugar is slightly over 11 grams per litre.