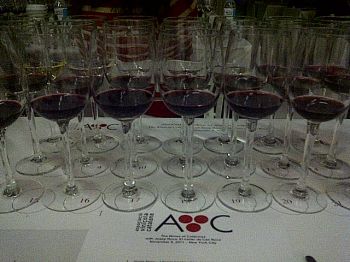 "20 wines!" exclaimed a fellow particpant at today's Master Class tasting of Catalunya wines led by Josep Roca, Co-Proprietor, Sommelier, and Wine Director of the (Catalunya based) Michelin 3-star restaurant El Celler. He was in New York today to lead a Master Class tasting of 20 distinctive wines from Catalunya (all available in the US) including Cava, a white, and mostly reds from the region.
After the Master Class, participants and other trade guests were free to visit the 31 producers and additional wines.
What was most interesting about the Master class was that Mr. Roca introduced each wine, explaining the varietal, the climate, and the style. Before the official tasting, Mr. Roca showed a gorgeous video of his restaurant, El Celler de Can Roca, and the food presentations looked so delcicious I could not wait to visit this fantastic restaurant with a very dedicated wine program and attention to gastronomy.
Images went by fast yet I saw tantalizing images of serious-looking sous chefs doing intriguing things with lobsters, and other techniques associated with molecular gastronomy.
Though I hope to visit next summer, NYC folks had a preview of the restaurant the previous evening at Mercat, a trendy restaurant in Manhattan that has been featured in the New York Times, NY Magazine, and other top publications. The name means "market" in Catalan, language spoken in the Spanish region that inspired this restaurant and tapas lounge.  
Mr. Roca and his chef brother Joan Roca presented a 12 course menu with the help of Mercat chefs, all paired with wines from Catalunya. The menu follows … and the food and wine pairing in many ways echoed the key points in Josep Roca's Master Class today, as he always talked about appropriate pairings when describing the wines.
November 8, 2011, 6:30 p.m.
EL CELLER DE CAN ROCA IN NEW YORK
Mercat NYC – 45 Bond Street
Wine Presentation by Josep Roca, Co-Proprietor and Wine Director
Oysters on solid champagne with apple compote, gingerbread, cumin, curry, ginger confit
Agustí Torelló i Mata, D.O. Cava
Foie gras timbale with apple and vanilla.
Albert de Vilarnau F. Barrica Brut Nature Gran Reserva, D.O. Cava
Pork feet Carpaccio with oil, diced tomato, roasted hazelnuts
Celler Batlle 2001 Gramona, D.O. Cava
Green beans nest with fresh pear salad and prawns
Xarel-lo Albet i Noya 2010, D.O. Penedès
Sole with flavours of the Mediterranean: fennel, orange, bergamot, pine nuts, green olives.
Gresa Blanc 10. Vinyes d'Olivardots Garnatxa Roja, Garnatxa Gris i Carinyena Blanca, D.O. Empordà
Turbot or sea bass with beans and Arbequina olive oil with toasted pine nuts, rosemary.
Flor de Garnatxa 2008 Garnatxa Blanca Celler la Bollidora, D.O. Terra Alta
Belly of lamb with mint, cumin and parmentier of sheep cheese
Ex Ex 7 Monastrell Castillo de Perelada, D.O. Empordà
Duck Magret (Duck breast) with pomegranates, sweet potatoes, truffles
Pinord +7 2007, D.O. Priorat
Beef filet with five pepper sauce.
1780 Castell del Remei 2005, D.O. Costers del Segre
Loin of deer with venison sauce, cocoa powder and Griottines
Lo Piot 2003 Cesca Vicent, D.O.Q. Priorat
Sweet veal cheek with truffle and mushrooms
Mas La Plana Gran Coronas 1988, D.O. Penedès
Dessert of chocolate with different textures with violet jam and blackberry sorbet
Teresina Piñol Negre 2009, D.O. Terra Alta