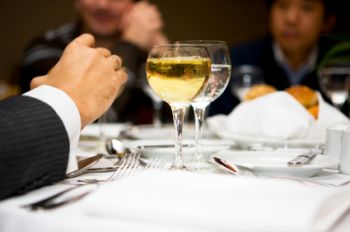 Some excellent wines this week, an assortment of reds and whites from around the globe. Though diverse as a group, what unites them is their distinctive terroir.
Terrezas de los Andes
Reserva Malbec 2009
I visited this winery in Argentina last year and happy to have the chance to review it again, this time paired with a variety of dishes at The Modern. The winery has been around since 1960 under "Bodegas Chandon" and 1997 was the first commercial vintage under the Terrezas de los Andes label.
The wine, with its purple opaque color and intense fruit notes of black cherry, raspberry, blackberry, and spice, paired very well with steak, especially with its med+ acidity and tannins. The vanilla notes from Barrel aging provided elegance and made this a fabulous food wine – especially for its under $15 price.
The Climber 2010
Red Wine from Clif Family Winery
Social climber? Vines that climb? Curious name yet a very good wine from the people behind Clif Bar & Company, headed by winemakers Bruce Regalia and Sarah Gott.
This wine is a blend of five varietals … not a "Bordeaux" blend but Zinfandel based, so you know it is spicy. Cabernet Franc and Cabernet Sauvignon round it all out, along with Petit Sirah and Merlot. It's a fruit driven wine with lush blackberries and cherries, along with seductive vanilla touches from barrel aging. A bargain at $14.00.
Kit's Killer Cab 2008
Napa Valley Cabernet Sauvignon
Intense black cherry on the nose and palate, and incredible balance of deeply concentrated fruit, oak, tannin, and refreshing acidity are the hallmark of this top tier wine from winemakers Bruce Regalia and Sarah Gott.
It's a rich, succulent wine that demands rich, succulent fair … of course, it works well with lamb and steak, yet can  work for "pescatorians" who like red wine with fish by adjusting the weight of the sauce and manner of cooking. The Cabernet Sauvignon fruit comes from an alluvial fan on Ritchie Creek in Calistoga, and the 8% Merlot and 8% Malbac comes from a vienyard along the Napa River. Only 250 cases produced $38.
Craggy Range Sauvignon Blanc 2010
Martinborough, New Zealand
This wine, sourced from several exclusive parcels of vines growing on a stony, limestone influenced soil adjacent to the Huangarua River in Martinborough, New Zealand, is remarkable as it is unlike most 'generic' fruit-driven Sauvignon Blanc wines from Martinborough on the market. Almost like an expensive Chablis, one can sense the minerality and long racy finish.  Great for delicate dishes like sole. $21.99.
Craggy Range Chardonnay 2010
Hawke's Bay, New Zealand
Delicious and elegant wine that comes from the exclusive Kidnappers Vineyard in Hawke's Bay, New Zealand,. It is a cool yet sunny environment alllowing the development of  the subtle yet elegant flavors one usually associates with the mineral-rich, high acidity Chablis region of France.  $21.99