Nicole Lamarche and her mother
"Welcome!" says Nicole Lamarche, a petite, dark haired young woman with a quick, confident manner that silently supports the fact she is a brilliant winemaker. Since 1997 she has taken responsibility for the family's prestigious line-up of Grands Echezeaux, Echezeaux and Clos Vougeot, and the best of the Vosne 1er Crus (Malconsorts, Suchots Croix Rameau) from her winemaker father whom she joined after oenology school in 2003.
By 2007. Nicole was making wines on her own – and making changes in the winery as well, beginning with going organic in the vineyard and changing coopers, raising the percentage of new oak for most wines, and adapting vinification techniques like cold soaking, and the length and temperature of fermentation and maceration to suit each individual vineyard with careful attention to the vintage.

By all accounts quality has improved dramatically since her ascension … and I am eager to try these legendary wines in the cellar which she pulls directly from the stainless steel vats.
Very quickly, we go from stainless steel vat to vat tasting the current vintage of everything from village wines to grand cru. Though quite young, each wine has its own specific character, and each is quite balanced despite its youth.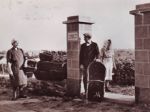 As we taste, I can't help thinking about the dramatic history of the Domaine (you can read about it here, but isn't the history of every domaine dramatic) and think how lucky it is all working out that Nicole, with her modern ideas and thoughtful attention to each plot and specific needs of each vintage, is at the helm here.