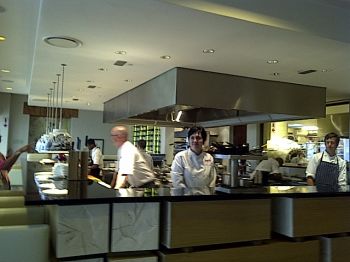 If you've been reading headlines in glossy food, wine, and travel magazines around the world, you've heard that South Africa is now the coolest wine tourism spot in the world.
Why? Beyond the high-quality of the wine which is only now beginning to be widely exported – and the passion of the winemakers – you will find absolutely incredible estates. Some of them are glossy and new, some of them are ancient and quaint, some of them have picture postcard views … well, the list goes on and on.
In fact, though the Napa Valley is known as a region for fabulous wine estates (think castles, Persian palaces …) South Africa takes the cake when it comes to fabulous wineries where you can spend the day feasting on gourmet food from celebrity chefs, exploring cellars, meeting winemakers, and much more.
At La Motte, near the charming Huguenot-settled town of Franschhoek, you can do all of the above plus hike up incredible trails, tour an art gallery, visit a water mill used to make bread for the fabulous gourmet restaurant, and even buy farm fresh produce.
Visiting La Motte is an experience –it has just won best of Wine Tourism this year for South Africa.
The visit begins with a drive up to the winery through a gorgeous oak tree lined path … there is a sense of anticipation as one enters the doors of the tasting room, located in a newly modernized and gorgeously redecorated 1752 historic structure, the Manor House.
It is here we are greeted by Michael Langenhoven, the very tall, extremely affable winemaker who welcomes us inside. The first thing you notice about the tasting room is its red walls and stunning servers.
Immediately one gets the sense this is unlike any other tasting room, in any country, you may have seen. It is set up almost like an exclusive private club, with servers warmly welcoming guests, seating them in very plush banquettes or tables, and giving menus of the wines and cuisine offered.
Guests are free to wander into the adjacent barrel cellar, again noticeable for its stunning, movie-set like ambiance. It is a real cellar, with real wine, yet very richly designed.
Michael leads us on a VIP tour of the "guts" of the winery, with its steel catwalks and giant fermentation tanks, with the major luxury (beyond the expensive, state-of-the –art winemaking equipment).
Next stop is the private, glass enclosed tasting room – very exclusive – with very elegant touches such as a silver engraved tasting plate and precious stemware.
We taste through the award-winning wines that have received the highest accolades from Platters (the top South African guide to wine), Stephen Tanzer, and virtually all international wine competitions. You will find all your favorite varietals here, with the La Motte Pierneef Sauvignon Blanc (Organically Grown), Pierneef Shiraz Viognier, and Shiraz-Grenache special favorites due to their complexity, intensity of flavor, concentration of fruit, finesse, elegance, and balance. I also really liked the Chardonnay and Cabernet Sauvignon.
Interestingly, Neal Martin – who writes for Robert Parker – also tasted the wines and remarked he was surprised to find wines of such good quality at such a gorgeous estate.
After the tasting is lunch at the winery's Pierneef à La Motte Restaurant, named for the creativity of artist Jacob Hendrik Pierneef (1886 – 1957). It may be unusual to name a restaurant after an artist, yet you will understand why when you see this incredibly dazzling space – just looking at it is a destination in itself – see the food, and also taste the freshness and "alive" quality of the ingredients, most of it directly grown on the estate. The bread, for example, comes from flour processed from the ancient Water Mill on property, and if you liked the freshness of the vegetables from your salad, you can buy some to take home from the adjacent farm stand.
Chris Erasmus is the chef here, and the cuisine is international in style, yet are based on three centuries of recipes from the area, mostly in terms of spices and herbs. Joining us for lunch and a glass of La Motte Cap Classique sparkling wine (absolutely incredible, and I had just returned from Champagne) was CEO Hein Koegelenberg, who told us more about the winery and led us for a tour of the Museum.
The museum opened in 2010 and hosted rotating exhibitions of contemporary art by South African artists before its new exhibition of modern French tapestries and ceramics by French artist Jean Lurçat (1892 – 1966)who spear-headed the movement to reinstate tapestry as an art form in France. About the only thing I didn't do during this incredible visit was put on some hiking shoes and climb the gorgeous hills.
Fabulous visit!
http://www.lamotte.com
See all visits to S. Africa producers