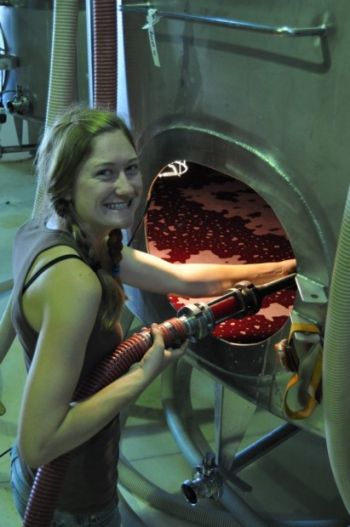 So my last visit in South Africa was with five producers located in the Hermanus Wine Route, also known as the Hemel en Aarde Valley, close to the sea. It was a gorgeous summer day (just thinking about it makes me nostalgic as now, just a week later, it is absolutely freezing in NYC) and the sun was shining bright.
Hermanus is a coastal town about in the most southern part of S. Africa, famous for the whales, shark diving, and increasingly wineries. It is located in the wine ward of Walker Bay, an hour and a half from Cape Town.
All five producers are distributed in the American market – but only one- Hamilton Russell Vineyards – was familiar to me as it is sold in my local NYC wine ship. Hamilton Russell is just one of the two S. African wines the shop carries, which was the primary reason I wanted to visit the country so I can explore the region and hopefully, do my part in popularizing imports.
In any event, let's talk about Hamilton Russell first. Now owned by Anthony Russell (son of the founder) and producing Pinot Noir and Chardonnay. The estate is located only 3 kilometers from the Atlantic ocean and the cool breezes that come inoff the ocean make this the coolest region for wine production in South Africa.
The soil is low vigor, stony, clay-rich Bokkeveld shale slopes. As is the case I've found in many top wineries, Anthony pinpointed the particular portions of the 52 hectare estate that produce the best cultivar and today only these particular sections grow Hamilton-Russell grapes. The wines I tried were very Burgundian, which to be specific is an elegance that is not typically found in 'New World' wines – a certain balance and restraint. Anthony himself is a very likeable gentleman, and from what I discovered an advocate for 'change' in the S. African winemaking world. I understand he is experimenting with creating new barrels in S. Africa instead of having them delivered from France.
The reception, lunch, and tasting was held at the very elegant winery of Bouchard Finlayson, which is described as "a boutique winery" yet looks like a Bel-Air mansion or a 5-star hotel in Beverly Hills – take your pick. The views are exquisite, and despite the elegance of the winery the owner, Peter Finlayson, is a very laid-back and friendly guy who had been the winemaker at Hamilton Russell Vineyards with Anthony's father. In 1989, he competed for a prize to visit Burgundy for a week's visit with Paul Bouchard, the Burgundian domaine/negotiant. Peter won the prize, spent the week in Burgundy, and upon his return raised funds for his own winery and persuaded Bouchard to join him in the venture (hence the name). The wines produced here are Pinot Noir, Chardonnay, and Sauvignon Blanc, all very balanced, elegant, and Burgundian as you can imagine.
Carolyn Martin, Peter Finlayson's niece, owns Creation Wines with her husband JC. At their winery the host what seems to be lovely wine pairing events with hors d'oeurves and produce several varieties of wine: Sauvignon Blanc, Viognier, Chardonnay, Semillon,
Pinot Noir, Merlot, Merlot/Cabernet Sauvignon/Petit Verdot, Syrah and Grenache. I tasted through the many selections and found them all very nice. If you visit her site (below) you can read the reviews of others who have visited the winery – many suggest to make a day of your visit to Creation. The food is very good – quiche and salad was served for  the lunch we all shared together
Kevin Grant is the owner of Ataraxia, which is a term used to mean 'emotional tranquility.' He offers three handcrafted wines – sauvignon blanc, chardonnay, and a syrah based blend called 'Serenity.' Grant has strong feelings about the state of sauvignon blanc in S. Africa, which in the past had been too generic. This is why he is so focused on finding cool-climate sites (to preserve the acidity and minerality). His Chardonnay is excellently balanced with the natural flavors of the vineyard shinning through.
Gordon Newton Johnson of Newton Johnson wines presented his premium wines, which include three lines and the varietals chardonnay, pinot noir, sauvignon blanc, and syrah. The wines are made as natural as possible to have a definite sense of place, with natural yeast and gravity fed movement — all excellent quality.

http://www.hamiltonrussellvineyards.com
http://www.bouchardfinlayson.co.za/
http://www.creationwines.com
http://www.newtonjohnson.com
http://www.ataraxiawines.co.za/mobi/
Tagged: cabernet sauvignon, chardonnay, grenache, merlot, petit verdot, pinot noir, port, sauvignon blanc, semillon, syrah, viognier