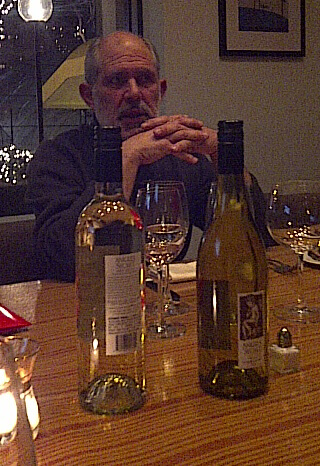 Fabulous evening with Bob Pepi, wine consultant and founder of the Eponymous brand of California Reds. Bob's father bought land in Napa in 1966, grew grapes, and acquired some of the best vineyards in the Napa Valley. Wine Spectator called Bob's first Cabernet Sauvignon "a Cellar Selection."
Eventually his family sold to Kendall-Jackson in 1994 and Bob began to lease vineyards/buy grapes and put his wines up for various competitions.
In 1991, Bob became general manager for the California operations of Stimson Lane, again producing award-winning wines, including a Cabernet-based Conn Creek  wine that received the highest Wine Spectator ratings of any Stimson Lane label to that prized consultant.  With over 40 harvests under his belt, and considerable wine business
Today Bob is the founder of Eponymous wines, all reds, which are exceptionally well balanced and delicious. At a food and wine pairing dinner tonight we experienced the wines with may different types of food. Some preferred the very elegant Syrah with steak, others the Petite Syrah or Full-bodied Chardonnay with pasta.
As a winemaker, Bob also make two whites, Two Angles Sauvignon Blanc and Angel's "Secret Carneros Chardonnay" — a bright rich fruit forward style for both.
The reds, I sense, he really puts his energy into: the Cabernet Franc was pulsating with vivacity, the Cabernet cleanly structured, and the Petite Sirah concentrated with black ruit — all is well. I also liked the Syrah and the 100% Cabernet Sauvignon. with their ripe, meaty flavors.
Fabulous introduction into Mr. Pepi's excellent winemaking skills!