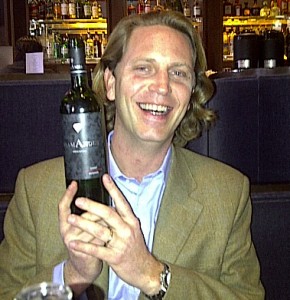 "Welcome," says Antoine Blech of Opia restaurant in Manhattan, welcoming Jean-Jacques Bonnie of Bodega DiamAndes and his contingent. We are here at this fun restaurant overlooking 57th street to taste some of Jean-Jacques new releases for the American market, and I am excited by the opportunity to ask a Uco Valley producer a variety of questions about the terroir of this Argentine region about an hour south of Mendoza, and taste his wines.
Like many of the most prestigious brands in Argentina, the family is based in Bordeaux, France. In 1996, Jean-Jacques's  parents Alfred‐Alexandre and Michèle Bonnie purchased Château Malartic‐Lagravière, Grand Cru Classé de Graves in 1996. Nine years later (2005)  they acquired Château Gazin Rocquencourt, 28 hectares situated next to Malartic‐Lagravière …
… and so it continues, with them purchasing 115 hectares within Michel Rolland's Clos de los Siete project and the start of the DiamAndes project.
So today at Opia we are seeing the fruit of the Bonnie family labor. We begin by tasting the 2010 Chardonnay, which is barrel fermented in 100% French oak, 40% of it new. The wine is rich and luscious, with medium acidity and a long Meursault like finish of melted butter. It is a great food wine and very delicious.
The 2010 Viognier is also barrel fermented in 100% French oak (40% new) and very rich and luxurious with ripe apricot and peach flavors and a long finish.
The region is known for its Malbec, and we taste three Malbec based wines.
The entry level Perlita is a new brand, and is labeled Malbec-Syrah (2010) because it is 80 percent Malbec and 20 percent Syrah. By law, a wine must be 85% Malbec for it to carry the single varietal. It is medium purple in color, very fruit forward and easy to drink.  Quite juicy! Again 100% French oak, 25% new.
The Malbec 2010 is a crowd pleaser at the table, dark purple and smooth smooth smooth, with a dark berry finish with a bit of chocolate ganache. It spends fourteen months in 100% French oak, 50% new.
The flagship wine is the 2007 Gran Reserve, just released, which is 70% Malbeck and 30% Cabernet Sauvignon, aged 24 months in 75% new French oak (25% neutral French oak) and one year in barrel. It has received positive reviews from Wine Spectator, Stephen Tanzer, erobertparker.com, and Natalie MacLean.
Jean-Jacques and his wines are real charmers … it is a pleasure to see such affordable and delicious Malbec from the Uco Valley.