"Wine and art … it's everywhere!"
This is the refrain of every wine lover (and art lover) dazzled by the "perfect pairing" of wine and art, ranging from sleek, jet-set art events such as Art Basel in Miami to new multi-million dollar wineries around the globe.
Henri Lurton, owner and winemaker of the Second Growth Bordeaux Brane-Cantenac, has long been a supporter of the arts, bringing in world-famous soprano Elizabeth Vidal to sing during En Primeur 2011 … and now, engaging Eric Boissenot to kick off his black and white, argentic photographs of Brane-Cantenac.
Every year, Henri Lurton selects a photographer for the annual exhibit 'Brane seen through the eye and lens of …' .
In 2012, Eric Boissenot's work will be on display in the big tasting room of the chateau until March 2013.
Eric's photos are a step back into a world of refinement, contrasts and delicacy.
As you can see from the photograph below …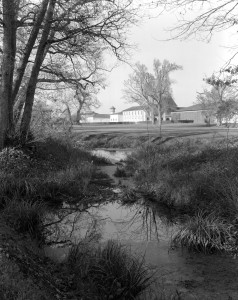 … his work is deeply moving and filled with extreme sensitivity.
The finesse of each detail is reminiscent of graphite pencil drawings and ink sketches.
His vision of Brane-Cantenac is that of a drawing artist rather than an impressionist painter.
… and it's interesting. I've been at Brane-Cantenac many times, yet it was always a gorgeous sunny day or pleasant, clear evening. This image isn't what comes to mind when I think of the Chateau, yet it means that I must visit in the gloom of winter  (and enjoy some 1959 while I'm at it!)
About Eric Boissenot
Eric was the only boy in a family of three children. His mother was a teacher and his father was an oenologist and both were interested in art. Eric quickly became interested in the artistic world and its multiple forms of expression. He first learned drawing and then got into music (flute and piano).
He was only twelve-years old when he bought his first used camera, a Yashica, with his personal savings. Fascinated by cameras and their inner workings, he took great joy in fixing them up. The cameras he uses work without batteries or cells and date back to the 1900s to 1980s: they include large-format cameras, a Rolleiflex 3.5f, a Leica M3 and a Graflex. The look of a camera is just as important to photographers as its functions. Therefore, with a profound desire to cling to the essence, he focused on silver salts and black-and-white film with its disturbing nuances of color. Completely self-taught, he read numerous books, set up a laboratory in his family's house and practiced making prints in a darkroom. In 2004, together with Jean-Claude Dal Cin, an eminent specialist in the field, he learned the "Zone System", a technique for determining a film exposure and development time that will give optimal density to the shades of grey that were so dear to Ansel Adams.
Eric's life is split between two passions, each of which requires time, rigor, minutia, sensitivity, a flair for composition and attention to the balance of a photograph or a wine. The first is his profession – oenology – for which we might say, like René Goscinny, that "he fell into it when he was a young boy." He inherited his father's knowledge and love of wine, and gustatory and organoleptic abilities had already long been in the family's genes. His second passion is photography. Short of time, he photographs portraits of passersby, his wife, and his three children. But he draws his greatest inspiration from landscapes, lines and meandering rivers, the reflections of dormant waters and poetic realism.
When on tour or on business trips, Eric always takes along a camera, ready to immortalize an impromptu or magical moment.
His references in art photography include Ansel Adams, Richard Avedon, Alex Webb, Henri Cartier-Bresson, Rony Willis, Sabine Weiss, Diane Airbus, Joseph Koudelka and Sebastiao Salgado.
Many people consider Eric Boissenot as the Oenologist advisor of reference on the left bank of the Garonne and more particularly for the Medoc's properties. He was recently included in the ranking of the 100 most influent persons of the Wine World in France established by the "Revue du Vin de France".
Eric Boissenot started his career in winemaking with his father Jacques when he was 15 years old in the family property. This passion drove him naturally into the faculty of oenology in Bordeaux, where, while he was studying, started his job of oenologist/consultant with his dad. He obtained his Doctorate of oenology in 1997 after 5 years studies on the soil of the Medoc area.
Today his full time job is wine consultant with more than 90% of his clients issued from the Great Chateaux of the Médoc: Latour, Lafite-Rothschild, Margaux, Mouton-Rothschild, Palmer, Pichon Comtesse, Pichon Baron, Ducru-Beaucaillou, Léoville Barton, Léoville La Cazes, Gruaud-Larose, Brane-Cantenac and now chateau d'Arsac.
This specialist of the Médoc praises these wines for their equilibrium, elegance, fruitiness with a special mention for the Cabernet of the Medoc that he loves
More on Eric Boissenot:
http://newbordeaux.com/documents/jacques_boissenot.html