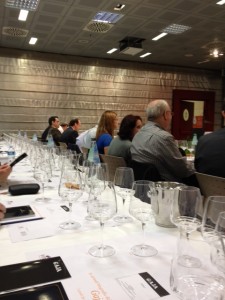 Fabulous vertical of sperss today at  Vinexpo
… a packed audience gathered together at 10am to hear Antonio Gaja speak about the Sperss vineyard which means "nostalgia" in Italian.
It was bought in 1988 to keep the dream of the father of Antonio, who was forced to work both the family winery (for no compensation, and also a very strict social life) and a vineyard in Serralunga where he had the opportunity to earn lots of cash and also party with friends. The elder Gaia was extremely impressed with the Serralunga vineyard, and his lifelong dream was to buy a piece of it.
In 1988, Antonia Gaja bought that dream for his father.
That is why Sperss means nostalgia.
Today the audience of sommeliers and trade and journalists learned a LOT about the passions of Antonio.  His voice rose with excitement and passion at several moments in the two hour talk in which he spoke about the humble origins of his family and the strength and passion his ancestors instilled in him.
… So we started with the Sperss 1989 which was delicate with a very long finish … high acidity and a sumptuous red cherry finish. Jump ten years and the 1998 was more tannic and still need time to develop fully. The 1996 , 2001, 2003, 2005, were all fab with their own special character.
I could share all my tasting notes but it would not matter " the 1998 was ready to drink, and while one could happily drink all the others now this is a wine that needs TIME to develop fully. The notes you would read today would not apply in a few months or a few years time.
Mr. Gaja spent a fully two hours talking about his family and his philosophy and helping the audience understand what we were about to taste a few hours before our first taste. This is not typical in New York and possibly other countries, but this is Mr. Gaja speaking and he spoke with such incredible passion it was mesmerizing.
A slideshow behind Mr. Gaja showed the tiny apelation from a picture in the previous century, and he also spoke about the early mapping of Barolo from a few centuries earlier. The father of Mr. Gaja gave him these maps and it were these maps that helped him identify the Sperss vineyard.