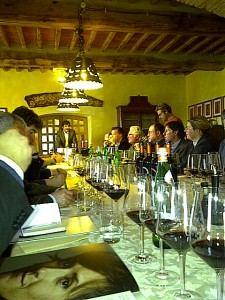 "This looks like the Museum of Modern Art in San Francisco" I exclaim, coming upon the incredible structure that rises from out of nowhere in the Maremma wilderness. This state-of-the-Art winery was designed twelve years ago by Mario Botta (who incidently also designed the SF museum) and is a curious balance of new and old.
The tasting room above is very "old school" yet the cellar and vat room are located in this incredible structure … a strange yet spectacular stairway to heaven (stairs cut through the middle of a circular structure, yet seem to go nowhere). It's an icon, just like the wines which include Sangiovese, Cabernet Sauvignon, Merlot, and Petit Verdot.
There are 741 acres here, and the soil includes "metal rich hills," calcareous outcroppings, clay, and alluvial. Merlot flourishes on the clay soils, and as I taste through the lines (value-priced Zingari, high end Quercegobbe) I am struck by a strong similarity to Pomerol.
Winemaking is old school here, mixed in with a bit of new technology. Hand harvesting rules, along with indigenous yeast … yet  winemaker Francesca Moretti experiments with micro-oxygenation. The wines are very super-tuscan, big and bold, with robust earthiness from the magnificent soils.
Beyond the excellent wine, the real treat here is the vat room and cellars, which are designed in a circular formation and are almost more art than science.