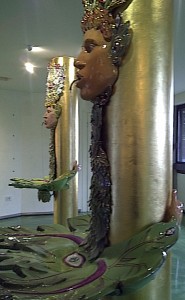 Isn't this art incredibly gorgeous? Who would have thought that it is located in a Tuscan winery, not a museum!
It is part of a program created by Tenuta dell'Ornellaia in 2009 designed to celebrate the "marriage" between art and wine … one that celebrates the character of each new vintage of Ornellaia. The program is called "'Vendemmia d'Artista' and it gives internationally-known artists the opportunity to interpret its nuances, to make visible and tangible an expression initially experienced only through aromas and impressions.
Yet before the art there is the wine … Ornellaia was founded in 1981 with the mission to produce outstanding wines given that the site was chosen for its unusual marine clay soils and microclimate.  Conceived as a marriage between the Cabernet Sauvignon, Merlot, Cabernet Franc, and Petit Verdot grapes, this Italian "SuperTuscan" has evolved over the years from a majority of Cabernet Sauvignon to more Merlot, which yields more plush, supple, luxurious wines. Axel Heinz is the winemaker (he took over from Thomas Duroux who now makes the wines at Chateau Palmer) and the wines are fresh, elegant, and refined.
Beyond this ultra rare, difficult to procure, and very high-end wines (think Sassicaia) it's a rare privilege and extreme pleasure to visit this winery and taste these fine wines.
As is the case in Cru Classe Bordeaux, grapes are given tender loving care … hand harvested, coddled, with special attention paid to growing grapes in specific terroir for their type, assemblage, and maturation in the correct vessel (large format barrels, small bariques, stainless steel) for the style.
You can see the entire line up here …