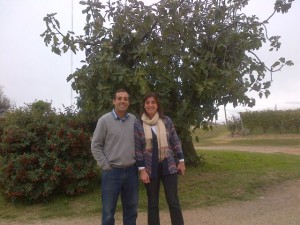 "Welcome!" says vivacious Ana Pizzorno, with a bright smile and flashing dark eyes as she picks me up at the Montevideo airport. It had been a long flight from New York, and Ana's enthusiasm to show me her vineyard makes it all worth it.
Montevideo is apparently quickly becoming a hot spot … the plane was full and passengers were forced to walk through a high-tech retail shop offering everything from Clarins body cream (yes!) to designer sunglasses.
On the thirty minute drive to the Pizzorno winery (a very easy drive from the airport if you'd like to visit!), Ana tells us a bit about the winery and her life …
…this woman has such an exciting, multi-dimensional life she can make the cover of Oprah magazine in terms of multi-tasking.
First off, without any makeup she looks like a fashion model and has the sparkling personality of a television host. If that was not enough in itself, she is a practicing physician in addition to promoting the family winery full-time and traveling constantly for that reason. Did I mention she was also the mother of two teen-aged children?
Let me tell you a little about the winery. It was established nearly a hundred years ago by Carlos Pizzorno's grandfather, Don Prospero Jose Pizzorno, who had come from Italy with the vision of planting a vineyard in Uruguay. You can see a picture here from 1960 with Carlos just a baby …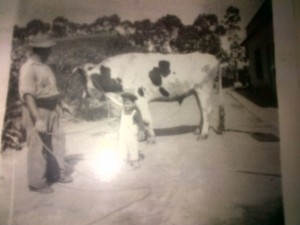 Carlos grew up determined to carry out his grandfather's dream. He became an enologist and also (not to make you envious) extremely attractive and like his wife, could also be a model with his elegant good looks.
The couple are very gracious and I love hearing the stories of their winery. As we arrive a the winery Carlos proudly shows us his "new and old" cellar … one part dates from 1910, and the other part(s) they had built in stages, with the most recent part built just last year. The cellar is artfully done, designed to showcase and link both the new and the old.
As I was just in Champagne last week and visited many cellars of the large houses … and at the same time read a book published in 1887 titled "Facts about Champagne" that detailed how champagne was made in that long-ago period, I was startled to see two men making sparkling wine using the ancient method described in the book! One man used a machine that looked similar to the machine I saw in the museum at G.H. Mumm to discorge the wine, while another filled the bottle with a similar antique looking machine.
Two types of sparklers are produced …. One is 90% Chardonnay and 10% Sauvignon Blanc and the other is a blend of Pinot Noir and Chardonnay. The Chardonnay/SB blend is actually refreshing and delicious with a crisp refreshing finish.
I hear that Duncan Killiner, from New Zealand, is their winemaker consultant and that Sommelier Imports from New York is their importer. Ana and Carlos travel often to London and New York and other markets to hand sell their wines at various in-store tastings and private dinners.
The couple are dedicated to promoting their winery and are more concerned with expressing the quality of their boutique winery and what is possible in Uruguay than volume. They hand select the top-end restaurants and wine shops where people can buy their wines.
A cute story … Carlos's grandmother lived until 99+, and resided right here on the property. When Anna and Carlos had their first order from London, Carlos proudly told his grandmother the news. However, she corrected him, reminding him that his grandfather was the first to export to London during the 2nd world war as the typical wine-producing countries were out of business …
And here are some notes from the tasting.
Don Prospero, Sauvignon Blanc 2011 – classic
Light straw color, nose of subtle flowers, very balanced on the palate with more floral elements and soft citrus, ripe peach, and ripe apricot flavors.  Finish is dry and crisp.
Details: harvest three parcels at different times form different kinds of acidity and then decide on the best blend. Around $13
Pizzorno Sauvignon Blanc Reserva 2011 $15
30% fermented in oak
Subtle nose of fresh ripe fruit, on the palate medium bodied … creamy texture of ripe peach and apricot with a crisp dry finish.
Don Prospero Merlot Rose 2011
Salmon color, subtle floral nose … balanced acidity with a crisp finish …. Could pair well with fresh salads.
Don Prospero Tannat, Carbonic maseration 2011
Fruity nose, good body …. made for the domestic market.
Don Propsero Tannat Merlot 2011
60% Tannat, 40% Merlot
Smooth, well balanced wine with spice, well-integrated oak, ripe red and black fruit that is a bit jammy. Clean finish.  Crowd pleaser.
Don Prospero Tannat Malbec 2011  50/50 (Malbec 8 months barrels)
This is a delicious wine with a dark black/purple – juicy nose of ripe red/black fruit, delicious palate of spicy black jammy fruit and a crisp finish filled with spice and black fruit.
Don Propsero Tannat Merlot 2011
60% Tannat, 40% Merlot
Smooth, well balanced wine with spice, well-integrated oak, ripe red and black fruit that is a bit jammy. Clean finish.  Crowd pleaser.
Don Prospero Pinot Noir 2011
Spice and rich ripe red fruit, incredible balance, very rich and again the fine balance.
2 harvests … first for sparkling, then 20 days later for PN
Pizzorno Tannat Riserva 2008 100% tannat 1 year barrique oak 1 year bottle
Extremely rich and well balanced with concentrated fruit elegance and finesse. Notes of vanilla and lots of layers of texture.  Lively acidity adds lift.
Pizzorno tinto reserve 2008
60 Tannat 30 cab 10 Merlot
Somewhat astringent tannins yet gorgeous purple-black color – I year French French oak, then four months in French oak again all the varieties to integrate the wines
Primo 2006 Pizzorno tannat 50 25 cs 20 merlot 5 petite verdot – 15 months French oak individually … 5 months as a blend in oak – rests for three years
Fabulous wine – wine of my favorites … rich, full bodied, very elegant and precise … the balance is great.
Pizzorno Sparkling Wine  90% chardonnay 10% Sauvignon Blanc
Refreshing and brisk
Pizzorno Reserve Sparkling  50/50 chardonnay and pinot Noir 2010
A delicious fuller bodied wine for food
A fabulous visit and showcase for the prestige wines of Uruguay