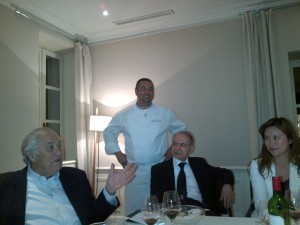 "Krug champagne!"
Well, what else would you expect when having dinner with Jean-Michel and Jean-Charles Cazes at the restaurant inside the exclusive Cordeillan-Bages hotel in Pauillac.
The hotel (managed by Relais & Chateau) is gorgeous and the atmosphere is very refined and relaxed.
We are gathered together to experience the talent of the new chef, Jean-Luc Rocha.
We start out with Foie gras mi-cruit, pain d'espices et pulpe de Maracuya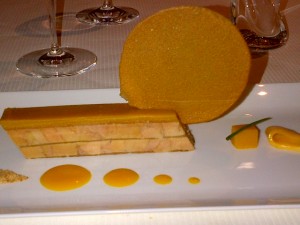 As you can see, it is quite a work of art and delicious. This is paired with Chateauneuf du Pape 09, Domaine des Senechaux.
Then, we have Lamprey a la Bordelaise paired with Saint-Estephe 2000, Chateau Ormes de Pez.
Suckling lamb in a zesty Viennoise crumb, grilled chop,(above) is served with a golden carrot.
A member of our group found it interesting that there were precisely fourteen people at the table, and we all had golden carrots made extra gold by the gold sauce.
14 carat gold, you see.
And also interesting that a vast percentage of the guests were Asian, and the Hong Kong VinExpo is just a few months away.
Well, I have no idea what this leads up to, yet it is quite clever.
Dessert — pictured below — is like a classic Russian doll, with the various layers of delicious flavors breaking open and leading to layers of other flavors. It is called Fraicheur de fruits exotiques, verveine-citron.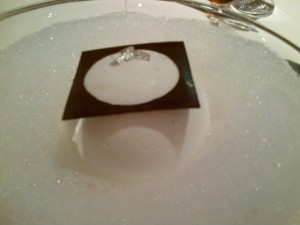 It was a fabulous introduction to Chef Jean-Luc Rocha and his style, which is quite intricate and complex.
Yet what I especially relished from this dinner was the opportunity to get to know Jean-Michel Cazes. He is one of the most brilliant and affable men I have met … very impressive with his combination of charm and business savvy.
… and though he must meet hundreds of people a week, and certainly dozens every day, this morning he recognized me by name when the sea of journalists he must have met from then till now must have been a blur.
Also at my table that night were some really fun people from Hong Kong … a lively pair of guys that produce a radio show about wine, Chi Sun Lau and Wilson Kwok (Wilson also has a restaurant in Hong Kong).