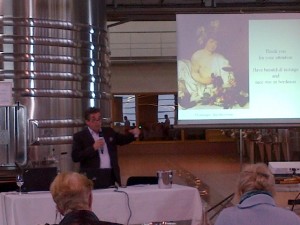 "There are five essential conditions for a quality vintage," says famed professor Denis Dubourdieu, speaking in front of over a hundred journalists from virtually every corner of the world.
We gathered together at Chateau La Lagune, where the vat room I visited several years ago had been cleaned out and filled with many seats and tables covered with elegant white clothes. Bottles of pink-labeled Evian water sit before us, along with some empty wine glasses.
Each year, Professor Dubourdieu gives a presentation on the vintage, and though the message is always upbeat, learning about the factors responsible for the vintage is always refreshing — especially for a Master of Wine student.
Among the positive factors for quality this year was rapid and early flowering, good spring weather, water stress before color change, a good amount of rainfall, and hot August weather.
After a discussion of these factors, we tasted several examples of high quality wine from various regions. Professor Dubourdieu explained the wines were selected blind …
…. they were all excellent examples for their regions, and the 2011 vintage is off to an excellent start!