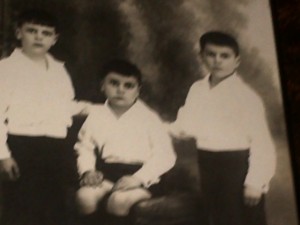 … an absolutely fabulous visit to Pisano Wines today …
… vivacious Daniel Pisano, director of his family's winery, picked me up and gave me a tour of his fabulous winery as well as one of the most entertaining lunch experiences of my life. The cuisine was great and the many award winning wines outstanding, yet what made this visit special was Daniel's incredible charm and also his fantastically colorful storytelling that really made the winery come alive.
The story started three centuries ago in Italy.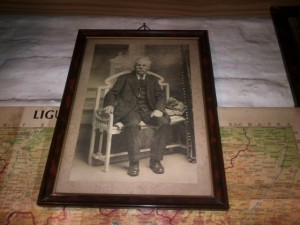 In the picture above, you can see a picture of Daniel's great great grandfather.
He would travel from his home in Italy to Uruguay, where he had some sort of a wine distribution business. His dream was to start a winery in Uruguay.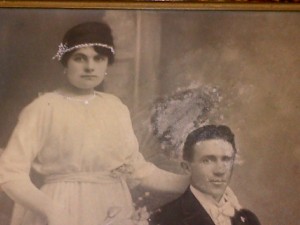 Eventually one son settled in Uruguay (above) and this was the beginning of the Pisano Family Vineyards. Daniel remembers his grandfather as a small boy and would help him in the winery.
In fact, during the visit Daniel shows us his "museum" — some ancient looking winery presses and corking machines. As a pre-teen Daniel remembers listing to radio shows featuring the Beatles and Rolling Stones as he corked bottles and did other winery work.
Pisano produces about 350,000 bottles a year and has won many prizes in national and international competitions. The soil is here calcareous clay loam soil and the 15 hectares are planted with Tannat, Cabernet Sauvignon, and Merlot in addition to Chardonnay and Sauvignon Blanc.
The goal here is to produce wine with regional character and be as natural as possible.
Experimentation is also a key concept. During lunch we are joined by Daniel's nephew Gabriel, a young yet very serious-minded winemaker who has a label of his own and buys grapes from his father and uncles, and Gabriel's father Eduardo who also has Daniel's charm.
If I understand the situation correctly, it is Eduardo who is often faced with the task of curtailing his brother's enthusiasm for experimenting with new varietals. Daniel is always getting excited about planting new varietals, and when he was in Argentina several years ago, "smuggled" a clone of Torrontes into the country.
"Didn't you become concerned with being arrested?" I asked, amazed. (The Torrontes the family makes, by the way, was one of my favorite wines and to Daniel's knowledge, the only one made in Uruguay).
"No," Daniel responds. "In those days they just would have confiscated it. Now things are different."
As we taste the delicious wines (the family produces over thirty wines, we continue to chat. One of my favorites is the Sangiovese (delicious, spicy, fuller bodied). As we taste it, Daniel jokes that his original vision was to make an award winning "Brunello" style wine. Though he admits that the terrior did not allow him to achieve his goals, the wine is absolutely delicious.
I also liked the Petite Verdot 08. In 1997 Daniel was in Bordeaux and visited La Tour, a first growth. He was greeted by the winemaker himself, who exclaimed "Ah, Pisano! The famous Tannat people!"
During the visit, Daniel became fascinated by Petite Verdot and went back to Uruguay with the idea of planting it. The wine was delicious.
Pisano also makes a category of wines called Personal Family Reserve … I enjoyed the Pinot Noir 08 from this line with is slightly jammy flavors and clean, elegant finish.
Daniel's son, who looks a bit like a Santa Barbara surfer, also joined us for lunch. Like his father he enjoys music and did many stages with famous winemakers.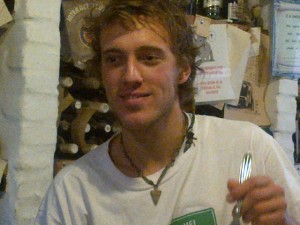 A fabulous visit to a wonderful family who makes exciting and delicious wine