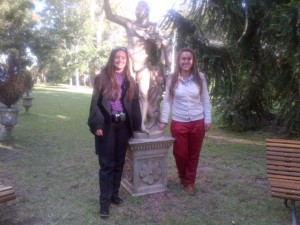 "This is an incredible park!" I couldn't help but exclaim as Victoria  Varela, the fourth generation of her family who is also in charge of the export market, shows me around her Varela Zarranz estate.
It is a gorgeous day and this is one of the most spectacular vineyards I have ever seen — trees of every description are planted around the winery, and I can just imagine Victoria as a child playing hide and seek with her siblings around them.
With us is Carla Fallabrino, who works in marketing and tourism … you can see them both in the picture above.
The winery was bought by the Varela family several decades ago … the winery had been built in 1888 by the pioneer Diego Pons, who had planted the trees and garden as well.
As we walk, Victoria explains the family's philosophy and commitment to quality.  The winery has several ranges of wine, including a premium wine that is excellent. When we visit the winery to see the vats one can't help but notice that the various machines are new yet the structure has the charm of its 1888 origins.
We see the "old winery" which is now used to showcase the winery's various international and national awards. There are trap floors on the bottom of this second story structure which was used in the old days to "gravity feed" the grapes to the fermentation vessels below.
The tasting room is located in a separate building and very quaint … a picture of the family from the 1940s is on the walls.
Below are notes from the tasting … the winery produces excellent quality wines at various price points for everyone to afford.
Brut Natural Chardonnay Viognier 50/50
Crisp and refreshing wine … some interesting aromatics from viognier.
Chardonnay 2011
Pear aromas and also rich pear on the palate with good balance. Very rich and elegant with concentrated pear fruit.
Petite Grains Muscat 2011
Refreshing with aromatic ripe pear and some tropical fruit.  Balanced palate of pear and tropical fruit with a crisp dry finish.
Tannat Merlot 2011 50/50 Unoaked
Very good example of an unoaked wine … very finished despite its youth. Fresh fruit flavors with an elegant dry finish
2009 Cabernet Franc
Roble line American oak 10 months 70% American 30% FrenchVery delicious aromatics … very balanced on the palate with well integrated oak.  Bright red fruit … pomegranates … some pepper. Dried dark cherry.  Herbal. Fab!
2009 Tannat 10 months in barrels (mixed 1st and 2nd use)Very well integrated oak … incredible balance. One of the best examples of Tannat seen on this trip. Some subtle vanilla characteristics to balance the "typical tannins" of Tannat.
2007 Tannat Cabernet Sauvignon  (85 Tannat 15 CS)
Fabulous nose of rich ripe black fruit with luscious notes of creamy vanilla.  Extremely well balanced and my favorite wine so far with its elegance and finesse.
2007 Tannat 12 months in new French Oak (1.5 additional maturation in bottle)Subtle perfumed aroma of ripe red and black fruit on the nose. Very elegant well structured and balanced with a long finish of ripe black fruit and vanilla.
Topacio (late harvest) 201160 grams of residual sugar … very luscious late harvest wine made from chardonnay … half from fermented in barrels. The other is the must blended with the fermented Chardonnay from barrels.  A good wine for oysters.