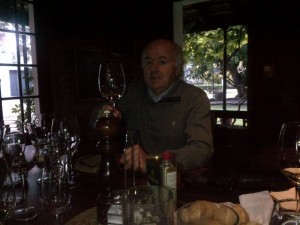 … so the first thing you notice as you drive to Bodegas Carrau near Montevideo is the gorgeous grounds and the stunning classic "Spanish Style" Hacienda with flowers all around.
Javiar Carrau, an enologist and director of the family winery, greets me warmly and tells me a bit about the winery as we tour the property.  The family has been in the wine trade since 1752 and hails from Catalunya, Spain. During the crash of 1927 Javiar's grandfather lost everything – and moved with his young family to Uruguay, where his mother's family was from.
At that time in Uruguay, wine quality was not as good as it was today. Mr. Carrau decided to focus on elevating the quality of Uruguan wine and accomplished his goal quite quickly.
In 1991 – by the time Javiar was in charge – the winery was doing well and Paul Hobbs, the famous winemaker and consultant who now has vineyards all over the world – came to visit. He advised Javiar to focus on perfecting the region's native Tannat grape and make the best quality possible.
Javiar did just that – and thus led the now-currant movement of small family wineries putting their efforts into perfecting the presentation and taste of the natural Tannat grape.
Now Javiar is a man very much about "good taste." Not only that he is very elegant in his dress and thoughtful in his speech, yet strongly feels that wine should "taste good."
"When I was a child, my mother forced me to take a teaspoon of cod liver oil every morning because it was  supposed to be good for my health," he tells me. "Wine is good for your health, yet I think it should taste good. That's why we are so determined to find the very best clones of Tannat and age them in oak and keep them back for additional aging before releasing them to the market."
We see the various cement tanks and vats of the winery, visit the laboratory, and of course the aging rooms. Javiar's idea is to get less oak influence by going to larger 300 litre barrels instead of 225. They buy 25% new oak every year.
When it comes to Tannat — indeed all the varietals – the winery takes great care in the vineyard as well as the winery with many green harvests and also attention to leaf plucking. They also make a point of blending single varietals from their two key Uruguay wineries (one in the south, one in the north) for added complexity.
They also have a new winery in Brazil which will have a grand opening late this year.
You can read an interview about vineyard management with this link
Here are some tasting notes …
Sauvignon Blanc 2011 Bodegas Carrou
Golden color, soft and floral and highly aromatic on the nose
Palate is crisp with medium + acidith, lots of mineraliy, and some butter notes. Very tangy crisp dry finish.  From red sandy soil of Cero Chapeau near border of Brazil, rather than Las Violetas here near Montevideo
Chardonay 2011 from Las Violetas
Scintillating straw with gold highlights, fragrant subtle nose with subtle notes of oak, vanilla, and ripe fruit …. on the palate a subtle orange shebet aroma. Medium bodied and very elegant with a mediu plus finish of vanilla-scented apples.
Sauvignon Blanc Sur Lie 2010 (stainless steel)
A bit of spritz of Co2 (to protect from oxidation) gives it a lively character. Crisp dry finish.
Chardonnay Reserva 2010
Scintillating straw with golden highlights, on the nose some sweet vanilla notes (suggesting the French oak) and a cool sherbet-like mouthfeel … medium plus body and notes of vanilla-scented apple cream.  Very elegant and delicious.
Petite Mansang (90%) and Sauvignon Gris (10%) 2010 from Montevideo
Bright scintillating gold color, intense aromatics … east Indian spices, saffron on the nose, fresh red apples and quince … on the palate strong acidity and minerality, again that rich indulgent palate of East Indian spices and saffron.  Really fabulous. I must compare it to a Petite Mansang from France. It seems as if the Sauvignon Gris adds zip.
Pinot Noir Reserva 2010
med+ transparent ruby color – almost a cherry color – with attractive spice and ripe red berry fruit on the nose, and good balance on the palate between the subtle oak, ripe rich berry fruit.  Crisp dry and refreshing.
Tannat Reserva 2010
Attractive garnet with a fresh nose of ripe rich red fruit scented with vanilla.  On the palate, more ripe fruit, with many layers of flavor. A chewy wine that can pair well with meat.
Tannat 2005 (blend of regions)
Dark color, fucsia rim, near opaque, full bodied on the palate with delicious ripe red concentrated fruit, lots of spice, a forceful body. Delicious. Complexity. Medium + elegant finish that builds to a crescendo of flavor.
Juan Carrau Pujol 2007
Blend of Tannant Cabernet Sauvignon Cabernet Franc and Merlot
Deep opaque color, nose of spice and rich ripe dark fruit, very very delicious! Extracted in an elegant way. Full palate with luscious spice and layers of complexity.
Tannat "Amat" 2007
Very dark extraction, serious looking wine. On the nose, ripe red and black fruit softened with aromas of vanilla.  On the palate, luscious bright spice, red fruits, some undertones of darker fruit. Very complex and balanced. A serious wine that can match the best Bordeaux. Enticing!