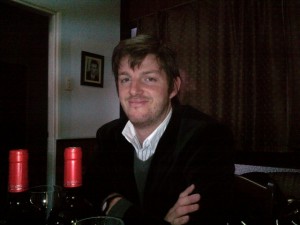 The family has had the winery since not 1940 — yet it was only in 1991 that Maria Mendez Parodi and her husband bought this winery. The wines as you will see below are of exceptional quality and well balanced, which is a good thing as Maria had served as the president of wines of Uruguay for four years.
Sauvignon Blanc 2011
Straw colored, strong mineral nose, high acidity, minerality, very rich on the palate with complex flavors.  87 points
Sauvignon Blanc 2012
Straw colored, very fresh aromas of ripe sweet fruit such as apricot, peach – very rich palate with luscious ripe fresh fruit. Incredibly delicious. 92 points
Viognier 2011
Rich, ripe aroma of sweet ripe yellow-fleshed fruit, on the palate a lot of richness and sophistication. Very elegant and supple. 93 points
Viognier 2012
Grapefruit … still in tank but an interesting comparison to the 2011, which was a riper year so there is a bit more residual sugar. 87 points
Tannat Reserva Rose 2011
Ripe flavors of summer-ripe red fruits, good structure and acidity on the palate with a crisp dry finish. 87 points
Tannat Reserva Rose 2012 Saignee method
Very pretty light transparent cherry color, bright fresh fruit flavors on the nose and palate.  Bright fresh cherry. 87 points
Cabernet Sauvignon 100 Anos 2011
Dark deep color, purple with lighter rim, nose of ripe tannins, rich ripe dark berries, delicous well balanced, well textured palate with notes of chocolate, ripe rich red fruit. Very well integrated tannins and oak. 92 (it is 60% American, 30% French) with only a third in the wine … the rest is epoxy. First second and third use of oak. 93 points
Malbec Alta Reserva 2010
Dark purple color, spice on the nose, on the palate very jammy flavors, lots of spice. Red fruits.
Good structure with ripe rich red fruits. 87 points
Merlot 2011
Deep dark nearly black purple, an elegant, polished sweet note on the nose with a touch of vanilla. 70% French and 30% American oak. Very elegant and delicious when many layers of flavor and a smooth, elegant finish of rich red fruit and spice. 93 points
Tannat Alta Reserva 2010
Very deep purple black color with a slightly lighter rim, elegant nose of rich ripe fruit, some notes of vanilla bean and black concentrated fruit, some spice. Palate very refreshing despite the ripe fruit with an excellent balance of well-integrated fruit, vanilla, and ripe fruit. 70% American, 30% French oak (just 57% mixed with stainless steel and epoxy). Absolutely delicious! 93 points
Syrah 2011
Deep purple color, very scintillating, on the nose lots of spice and rich concentrated black fruit, inky qualities and very rich ripe and concentrated. Nice balance of some subtle well-integrated oak. Delicious long dry finish.  93 points
Tannat Premium 2009
Very dark purple/black color, scintillating, on the nose sweet vanilla (from what must be French oak) and ripe yet elegant black sun-ripened fruit.  Very delicious palate with rich ripe concentrated sun ripened fruit with layers of vanilla and other flavors.  Quit elegant and smooth. Absolutely stunning. Good showcase for the national grape.  95 points.
Luis A, Gimenez  Tannat 2007 (limited production)
Very deep purple black color, scintillating, elegant nose of rich ripe concentrated black fruit and black berries, vanilla notes, sweet violet … very elegant concentrated flavors of concentrated ripe fruit tempered with vanilla and high quality oak. Great representation for the Tannat grape and also what the country can produce. 97 points.
Late Harvest Chardonnay Viogniet 50/50 2010
A light salmon transparent color, nose is of rich ripe fruit, texture is smooth and silky and full of ripe fruit, 95 grams per litre of residual sugar.  Vanilla ice cream is a good pairing, or hard cheeese. 86 points
Licor de Tannat 2007
Deep color absolute fabulous flavor! Concentrated fruit nose and delicious concentrated flavors of ripe black fruit. Notes of vanilla and some bright jalapeno peppers.