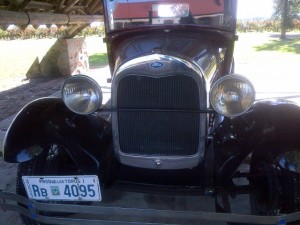 Fabulous visit today to Familia Deicas winery today, home of some of the best Bordeaux style wines in the world.
President Fernando Deicas (his prized car above) and his son Santiago Deicas showed me around along with different enologists. It is a giant winery with many different buildings, including an old brick building that was a dairy a hundred years ago.
The family started in 1979, when Juan Carlos Deicas (Fernando's father)  purchased the property. He first began to produce wine for brandy, and two years later planted vineyards for fine wines.
In the 1980s the family were pioneers in the wine industry and invested significant capital in buying new modern equipment.  Many people thought the family was crazy because they invested on high quality wine in Uruguay ….
… yet from the tasting notes below you can see it was worth it.
Pueblo de Sol Viognier 2011
Good terroir for growing Viognier … golden color, rich ripe aroma, succulent rich ripe apricot and peach flavors on the palate, racy acidity and some minerality.  … it is paired with shrimp cream cheese and bread. Reserve line $14. An absolutely delicious value.
Pueblo de Sol Tannat Rose 2011
Red transparent color, juicy ripe red fruit flavors on the palate with zingy acidity
2010 Tannat
Deep purple concentrated color, inky purple flavors on the nose of ripe fruit, somewhat candied flavors on the palate – ripe purple and black fruit, balanced tannin and acidity. Earthy flavors. Five grams of residual young.  $10 US
Pueblo de Sol Tannat Reserva 2011
Deep purple color, ripe sweet black flavors on the nose, black ripe fruit flavors on the palate with lots of black licorice. Slight coffee grounds. Balanced dry finish.  @nd use barrels
Pueblo de Sol Tannat Blend (70% Tannat and Merlot/Cabernet Franc) Limited Edition 2007 Barrel aging, eep garnet purple color, nose of rich ripe purple and black fruit, vanilla notes from the oak, lots of black licorice. Refined tame tannins Delicious!
Family Deicas Preludio 2006
Deep purple color with garnet edge, delicious nose of rich ripe black fruit, very similar to the finest Bordeaux, black licorice, very balanced and refined. Elegant. A first class wine and excellent example of the region.  They work with different toasts and barrels.
Familia Deicas Preludia 2000 Barrel Select Lote N 53
Deep dark intensity, almost black (blend of 200 barrels) on the nose, very fine Bordeaux style wine with rich, ripe complex aromas of black licorice, vanilla, a delicious grainy mouthfeel as if it was from Graves.  Very long finish with lots of concentrated ripe fruit and vanilla.
Familia Deicas Preludia 1997 Lot 35
Almost garnet color with very garnet, nearly transparent edges, on the nose sweet prince Edward cherry tobacco as in Bordeaux (could be a close call if blind tasting against a grand cru). On the palate a very silky concentration of ripe fruit tempered by quality oak and time. Outstanding. Delicious. Addictive.
Familia Deicas 1st Cru Exception 2005 100% Tannat
Fabulous wine very deep in concentration (purple, black) with a garnet rim. Nose is ripe black fruit tempered by some balanced oak, tobacco. Extremely long finish. Grainy texture like Graves in Bordeaux. Incredible. Hand crafted with every step.