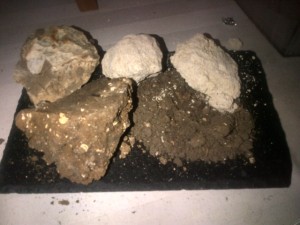 "Welcome!" says attractive dark haired Federico Domingo, Export Manager for Bodegas Castillo Viejo as we squeeze into his tiny car. He is here to escort us to the winery and introduce us to the winemaker Alexander Etcheverry and his wines.
It is a quaint vineyard and after a tour of the ferementation vessels we have our tasting in the cellar, surrounded by oak barrels.
Alexander joins his … as well as a member of the Castillo Viejo family.
Federico speaks English well and conducts the tasting. The key thing to consider here is that the winery is focused on quality. They at times experiment with new varietals and try new things. Below are some notes from the tasting.
Viognier 2011
Very balanced aromatic and delicious with an aromatic vanilla-floral nose of ripe apricot and peach fruit … on the palate the ripe apricot/peach continues with that vanilla powdered sugar aspect. Curious for a wine that has not seen oak or malo.
Sauvignon Blanc Reserva 2011
Crisp and clean on the nose and palate with yellow grapefruit aromas. Very balanced palate of tropical ripe fruit, medium acidity, a crisp dry finish.
Chardonnay 2011 De La Familia  (six months on oak)
Very rich and complex with pronounced vanilla notes on the nose and palate. A tapestry of flavors — vanilla, east indian spices, saffron … elegant and well balanced.
Reserva Tannat 2009 (6 – 8 months barrel American)
Nose Astringent tannins … A demonstration of the Tannat grape untamed.
Pinot Noir 2010 Family Reserve
Med transparency, nose is some fresh fruit … vanilla scented red berry fruit with a medium body weight and finish is a bit short … elegant
Tannat Cab Frank Reserva 2008
Astringent nose … somewhat candied … yet still balanced wih exciting flavors of ripe red fruit red licorice some spice …elegant finish
Tannat 2008 Riserva de la Familia
Very floral perfume on the nose … appears very elegant,  WOW – fabulous palate that follows up on the very complex and elegant nose. … 8to 12 months barrel maturation …
Gran Vino 06  (70 Tannat 15 Tempranillo)
A good food wine with rich ripe red fruits and an elegant long finish
Canta Mayor Riserva 2007
100% Tannat 15 months mix of new and old, medium toast) … very elegant and tempered flavors of spicy red tempered fruit with a long finish of vanilla spiked red fruit
El Preciado
44 Cab franc 28 Tannat 18 Cabernet Sauvignon 10 Merlot
(named after a spaceship that sank in 2002 in Uruguay)
Very juicy and delicious after three hours. A fabulous steak wine yet the situation s that it nees three hours in a decanter for the flavors to show
Cabernet Frank 2010
Oldes vineyards in the winery ,, beautiful color and succulent sweet rich red cherries with a long elegant finish