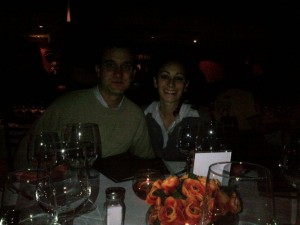 "What exciting wines!" is my first reaction to meeting Marcelo Irurtia, who is in charge of vineyard management for his family's 100 year old winery, and Maria Silvia Bianchi, who is in charge of exportation.
The reasons their wines are exciting are many — first, they are very carefully made and extremely balanced, which automatically puts them ahead of more mass-market brands. Second, they are unusual — when people think of Uruguay they do not often think of Viognier or Gewurztraminer.
And of equal interest – to me at least since I did my thesis on the millennial generation for the Wine and Spirits Educational Trust Honors Diploma, is that the label is very very cool. The brand of these two wines is Km.0 (shortcut or kilometer) written in a very cool looking script. The brand name is a clever way to relate to their terroir, which is located near a river which gives the soil its special characteristic, but all a millennial needs to know is that it is a very cool name, as opposed to more insipid animal names (no need to mention which ones).
Maria and Marcelo are excellent hosts, and we are sitting at a fashionable restaurant called Dante where the service is attentive and the f ood fabulous and the crowd — while not exactly trendy — is colorful and having a great time.  I find it difficult to take my eyes off this family … the two little girls, maybe 3 and 6, are dressed up like dolls from the Victorian and are actually wearing pinofores with ribbons in their hair as if they were in the 18th century.  They actually do look like expensive, life sized dolls. The parents have positioned them so that they watch and admire them throughout dinner, and have the waitress take many pictures of them together.
As we try the wines Marcelo tells us a bit about his family. They will be celebrating their hundredth anniversary next year, and the winery is located two hours away from Montevideo near the Brazilian border. It is the most notable winery in the area, and they receive many Brazilian visitors.
Marcelo's grandfather passed away a year before his birth, yet his father told him so much about him that his grandfather became a hero in his eyes and led to his wanting to take an active part in the family winery.
Now here are some tasting notes.
Gerwurtraminer 11 – Km.O
Lots of bouncy acidity and on the palate. A light color with some concentrated fruit fruit on palate. Cool melon flavors.
Viognier 2011 Km.O
Mildly perfumed nose on the palate whute peaches and minerals and a crisp dry refreshing finish. A naked viognier.
Pinot Noir 2010 grand reserva
Dark color very concentrated ripe fruit. Some berry elements yet more masculine style with nuances of mature strawberries and some plum. Dry focused finish. Six months on oak (second or third barrel)
Tannat reserve 2008
Dark color soft dark fruit flavors on nose very elegant – 15 month in oak. Long finish of rich ripe dark fruit
2010 Bordeaux style blend (won prestigious award from Bordeaux called Vinalies)
(blend of Tannat Cabernet Franc Cabernet Sauvignon  Malbec Merlot)
Very succulent and delicious with ripe red and black fruit flavors, very nuanced and balanced)
Medio Medio (Sparkling wine half muscat half chard)
This could be a winner in the US market … half sparkling wine and chardonnay makes for an easy drinking, refreshing wine with medium acidity and great balance. Millennials will love it.
Gewurztraimer 06
Fab floral nose …slight orange tinted color …not too sweet, would pair with with fois gras. Lots of luscious orange blossoms on the nose and  crisp yet off dry finish.
Fabulous visit with a very talented winemaking family
Tagged: cabernet franc, cabernet sauvignon, chardonnay, gewürztraminer, malbec, marc, merlot, muscat, pinot noir, port, sparkling wine, traminer, viognier