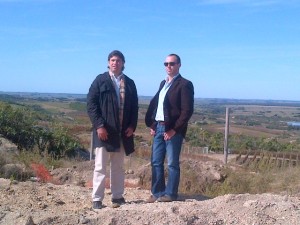 Have you ever dreamed of becoming a multi-millionaire? If so, would you use your money to buy a forest and plant a vineyard, and also plant olive trees to make the best possible gourmet olive oil?
… and what about a golf course? Or a high tech, state of the art winery designed to blend seamlessly into the environment?
Uruguay is full of surprises, and today experienced the ultimate in luxury with a visit to Bodega Garzon. The first sign I was in for something special was the guard at the gate of what seemed to be an endless forest. Once inside, we saw the 'tasting room' for both olive oil and wine, and then went on a tour of the new multi-million dollar winery that will be designed to blend into the environment and have grass (and possibly cows!) on top so to be environmentally friendly.
My guides were the gentlemen you see in the picture above – Nicholas Kovalenko export manager and German Bruzzone, the winemaker. I will see Nicholas this month at the London Wine Fair again.
In any event, the owner likes to keep a low profile yet has invested his fortune in this estate which works on many levels and has cattle, ostrich, vines, and olive groves. I tasted many of their olive oils and they are unique and quite gourmet. The thing you must focus on when you taste olive oil is fruit, bitterness, and a spicy quality.
The winery is young … in fact, we tasted the 2011 vintage of the whites. The tasting notes are below and you will hear more from this winery soon.
Sauvignon Blanc 2011
Light color – on the nose pleasantly grassy, subtle … tart acidity, some floral elements, a crisp dry refreshing finish
Albarino 2011
Light green-straw color, 10% oak fermentation to keep the fruit of the grapes and add more complexity. On the palate crisp and refreshing with good fruit concentration and a crisp dry finish.
Viognier 2011
Dry and crisp on the palate with good ripe fruit concentration, subtle perfume on the nose of ripe white-fleshed fruit. Med+ finish with good length and ripe fruit.
Tannat 2010
Deep intensity, purple, with violet rim. 18 months barrel aging in oak (100% new oak with 70% French and 30% American oak because American oak has lactones and Tannat likes lactones – they experimented with many blends of oak)
The nose is extremely and deliciously pungent with rich jammy flavors of concentrated black fruit … sun concentrated plums, blackberries, layered notes of vanilla.