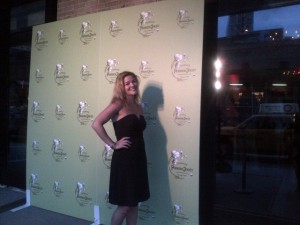 … so excited to attend a party to celebrate the sculpture Belle Epoque by artist Michael Kalish, his interpretation of a beautiful, alluring garden to pay homage to the flowers on the Perrier- Jouët Belle Époque "flower bottle" (images of the work can be seen here) in Hudson River Park.
The 'Belle Époque' installation will remain on display this summer over four weeks and will be open to the public. Additionally, a generous donation will be made by Perrier-Jouët to the Hudson River Park to help their continuous efforts in maintaining the allure of the park.The party at Bagatelle was fabulous, with Perrier-Jouet flowing and Solange Knowles providing the music. You can see some
great pictures here
I've interviewed Chef de Cave Herve Deschamps many times and have incredible respect for him and his wines. A chef de Cave must make several crucial decisions on many levels, but primarily must create the "blend" featuring reserve wines.
Herve Deschamps has been creating the 'house style' since 1993 -he is only the seventh Chef de Cave in Perrier-Jouet's two hundred year history.
As you might suspect, he grew up in the Champagne region where his grandfather grew grapes and sold them to the large Champagne houses. Entranced by the magic of how grapes grown on the best soil turn up in the bottles of the world's most coveted champagne, young M. Deschamps studied and earned degrees in agriculture and oenology at the university in Dijon, then joined Perrier-Jouet in 1983 as oenologist in charge of the fermentation process and cellar aging of wines before rising to his current position.
I recently visited Perrier Jouet for a private visit — the caves are filled with secrets, though they are incredibly spotless and well organized. The cellar also has its collection of special vintage bottles under lock and key.
Pairing art with champagne has been part of Perrier Jouet's history.  Famous American artist Daniel Arsham was commissioned to create a sculpture to showcase the magnums of Belle Epoque 1998 in an exclusive work inspired by Perrior-Jouet's conception of nature. Each work of art (containing two bottles of the 98 Belle Epoque) is sold to a consumer, with the idea that the consumer enjoys one of the bottles, and leaves the second bottle in its work of art for a future descendent.  The bottles (as I understand it) can also be stored in a special cellar at the champagne house, where Herve Deschamps can write a note … and the consumer can also write a note to his/her descendent.  A message in a bottle, as it were.