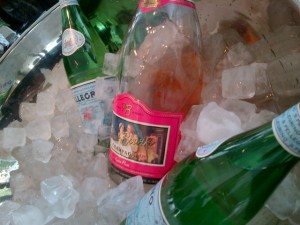 …. so today was really extraordinary even though I've learned to expect fabulous visits from this art group. Our 'cocktail' hour was held in a private apartment owned by advertising typcoon Christian Boris and his wife Karen Lohmann, who converted a WW II air-raid bunker into a powerful stage for his collection of works by Olafur Eliasson, Damien Hirst, Tracey Emin, Santiago Serra, Franz Ackerman and others.
The bunker in the past had been used to house prisoners, as a refuge for wealthy people in the neighborhood when air sirens screamed, and in the 70's and 80's apparently as clubs for trans-gender people.
Today it is a museum filled with interesting world=class contemporary art, and the owners live above it an a gorgeous open space with the best kitchen I've ever seen. This blackberry picture does not do it justice.
Now I'm sure you are excited to know what 'cocktail hour' consisted of. It was a Riesling, Prinz Van Hessen from the Rheingau. It was an exciting yet exhausitng day and I was looking for something sweet. The wine was actually dry (our group, none of them really wine people) were surprised. Yet the dry wine was incredibly well balanced and had a very sweet aroma of ripe apricot that was also matched on the palate.
The day began at the Konrad Fischer Gallery which represents many artists … they have a cafe so I asked the woman what red wine they poured. Primativo 2010. "Spanish wine is also very popular here," she said, even though the day before I only had French Cote du Rhone.
The exhibit was fun … Selim Varol, a 39 year old collector, had his toy exhibition up. Lots of action figures.
Lunch was at the home of Annette and Rudolf Kicken, Germany's premier dealers in photography in the Jewish quarter. They said during their welcoming talk they learned from Manhattan to "buy real estate" in areas that will be trendy twenty years later. The Jewish quarter in the 70s had been heavily bombed and was not really a happening neighborhood …. they bought it and built an incredible structure.
Lots of Diane Arbus here … lots of young guys wearing lingerie (in the photographs, I mean) and lunch was on the rooftop. A spanish restaurant catered it. Well done, lots of tasty bits. I asked the Spanish restaurant's owner about the wine list. "We are not located in an affluent area," he explained, saying that most bottles sell for about 20 Euros.
During the reception and the lunch we all drank Boivin cuvee rose from Epernay in the Champagne reason from Magnums.
We visited the studio of Tacita Dean, whose work FILM is on view at the Tate Modern. Typically not a fan of seven year old boys yet her precious child was the incarnation of the little boy in the ancient classic film, Auntie Mame.
A star is born.
Dinner was at the Grill Royal, a very happening spot that was all about meat (all the kinds you can imagine, think top end in Manhattan's trendy meat packing district).
Enough said?
Well, to clarify, someone at the table called these women 'a tall drink of water' which sounded positively ancient.
What does that mean, anyway?
The wines were Bordeaux's La Tour de By and some white burgunder.
La Tour de By was great after all the whites we've been drinking.
Château La Tour de By vineyards are located in the Médoc,  stocked with 65% Cabernet Sauvignon, 30% Merlot and 5% Petit Verdot with an average age of more than 40 years. I liked it.
The sommelier said that the average bottle price sold in the restaurant varies, yet was about 60 a bottle from a mostly French and Italian list.
More later!