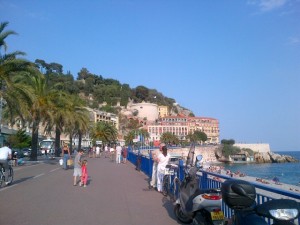 … so today is "Day Four" in language school in the South of France. Surely everyone reading this post is thinking wow, what a fabulous experience!
Of course it is, yet with school from 8:15 am to 5:15 pm each day it is also a lot of intensive learning — and even though we are just a few days into the program, my French has improved yet in the next month we all have far to go.
This school places emphasis on the 7 key verbs (to be, to have, to go, to do, to want, and can/may) as scientific research shows they are used most often.
Today we had a lecture on grammar which was well delivered and addressed key issues.
… yet of course you want to hear about the wine. Well, there is no wine at school, and lunch is something of a rushed affair and also a learning experience as our professor oversees our conversation and we must ask for water and pass salt and pepper using correct language.
Outside of school — at cafes with fellow students — I note that it's not really worth spending money on bottled wine from nearby Provence as the local wine sold by the carafe or glass is pretty much its equal.
Some of cafes have expensive bottles of Burgundy yet am curious if anyone really orders it. Summers here are hot and most of these cafes – though the food is fabulous – are really casual affairs where one can see strolling circus performers and the general scene.
Last night students gathered together for a boat trip seeing Monte Carlo … a fun opportunity to meet other students. There are a bit more than 60 of us and we all have our own soap-opera stories of what brought us here.
More later!